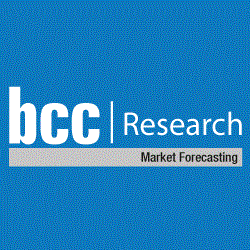 Wellesley, MA (PRWEB) December 10, 2013
Growth in companion diagnostics applications and biochip-based products, use of lab-on-a-chip formats in point of care applications, and migration toward more integrated on-chip systems in the biotechnology sector will impact everything from drug development to diagnostics for the foreseeable future. BCC Research (http://www.bccresearch.com), a recognized leader in biotechnology market research, has announced several recently published technical market research reports on this critical and growing sector, as well as a number of comprehensive market studies to be released by the end of the year.
With the discovery of new, clinically relevant genomic and proteomic content, biochips are poised to meet the need for new-generation diagnostics that can measure multiple biomarkers in single assay. In fact, a shift in focus from R&D-related tools to clinical applications that are accurate, easy to use, low cost, and suitable for automation will drive tremendous growth in these markets over the next five years.
Biotechnology companies and investors must understand these developments in order to capture new opportunities in both domestic and international markets. BCC Research's technical market research reports provide invaluable insights on how today's evolving markets are changing core business models in the biotechnology industry .
Use BCC Research reports to:

Gain an overview of the global biotechnology markets, including companion diagnostics, proteomics, biochip, and RNA interference technology development.
Analyze five-year market trends with data from 2012, estimates for 2013, and projections of compound annual growth rates for the period 2013 to 2018.
Evaluate industry trends and clinical applications for biotech-related technologies.
Assess the impact of industry standards and governmental regulations on global markets.
Review comprehensive company profiles of the top industry players and relative market shares for the leading companies.
Recently Published Reports
BIO077B - Companion Diagnostics: Technologies and Global Markets
Personalized medicine is becoming one of the important trends in healthcare today. The companion diagnostic sector is a fast growing part of this new space and has already made a significant impact on the pharmaceutical and diagnostic industries. Companion Diagnostics: Technologies and Global Markets provides an in-depth analysis of the global companion diagnostics market. (November 2013)
BIO085B - Flow Cytometry: Products, Technologies and Global Markets
Increasing research and commercialization in various fields of the life sciences, including proteomics, genomics, pharmacogenomics and stem cell research, have resulted in increased demand for high-throughput technologies such as flow cytometry. Flow Cytometry: Products, Technologies and Global Markets provides an in-depth analysis of the global flow cytometry products market. (October 2013)
BIO049E - Global Biochip Markets: Microarrays and Lab-on-a-Chip
Biochip-based products have game-changing potential across a range of sectors, including the biotechnology and pharmaceutical industries. Global Biochip Markets: Microarrays and Lab-on-a-Chip provides a comprehensive analysis of the global biochip market and an in-depth study of the impact of its current and emerging technologies on the overall biotechnology market. (October 2013)
BIO127A - RNAi Technologies and Global Markets
RNA interference has become an integral part of the biological research, pharmaceutics, diagnostics, and biotechnology industries. New drug candidates are entering clinical trials with encouraging results, sparking renewed interest in RNAi drug delivery research and emerging RNAi-related technology development. RNAi Technologies and Global Markets provides an in-depth analysis of the global RNAi research tool and reagent, therapeutic, diagnostic, and agriculture markets through its report RNAi Technologies and Global Markets. (October 2013)
Upcoming Reports
BIO083B - Life Science Tools and Reagents: Global Markets
This comprehensive study will provide an overview of the global market for life science tools and reagents, including analyses of global market trends, with data from 2012, estimates for 2013, and projections of CAGRs through 2018. (December 2013)
BIO073B - Cancer Profiling and Pathways: Technologies and Global Markets
This technical market research report will provide an overview of the global market for cancer profiling and biomarker studies. It will also include analyses of global market trends, with data from 2012, estimates for 2013, and projections of CAGRs through 2018. (December 2013)