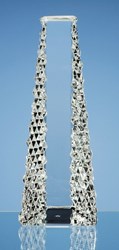 they transform mere sand into a timeless dream.... say Mario Cioni
Sutton Coldfield, Birmingham (PRWEB UK) 19 February 2014
Produced by Mario Cioni, an Italian crystal design and manufacturing company, these high quality crystal awards are ideal for engraving for special events and presentations.
This Italian designed range of lead crystal awards, bowls and vases feature large engraving areas allowing plenty of space for the engraver to personalise with wording, logos and images special to the recipient. Each piece is hand-blown and hand-cut with the utmost care and passion for noble and traditional art. The collection has artistic value which could continue to increase over time. The 24% lead content gives the awards brightness, weight and hardness, while ensuring clarity, sparkle and brilliance.
The 26cm Mario Cioni Crystal Tower award is sleek and stylish, hand crafted in lead crystal and has a diamond cut design deeply cut into the two sides of the award leaving a very large engraving area (20cm by 4cm) on the front face for any logo, crest or wording that is required, to create a gift that is sure to take pride of place when put on display at home or at work.
A video released by Mario Cioni demonstrates how the 'Luxe' design of crystal is handmade with care and skill. Chapman Presentations have featured this video on their website, alongside the Mario Cioni range.
Stylish and modern looking, the Mario Cioni Crystal Crackle Vase has a distinctive crackle design that is created during the manufacturing process. The upper part of the Crystal Vase is mounted on a clear circular base that can be personalised with any crest, logo or wording with an engraving area of 30cm by 55cm. The mahogany base complements the Crystal Vase, perfect for display purposes creating a presentation gift that is sure to be treasured by the recipient. This Mario Cioni vase is available in 2 sizes - 25.5cm and 28.5cm high.
The Mario Cioni 'Victor' Trophy is one of Robert Chapman's most unusual awards. It is hand crafted in lead crystal and is an ideal award or gift for somebody who is looking for something unique. The wood base complements the trophy and is ideal for display purposes. The trophy is 23.5cm high with an engraving area of 8cm by 3.5cm.
About Robert Chapman Presentations
Robert Chapman Presentations, an independent family business based in Sutton Coldfield near Birmingham, established 25 years ago, has considerable varied experience in personalised Awards, Trophies and Gifts. The wide range of products available can be engraved with images, logos and text, with care taken over the design and layout. A substantial investment into high quality engraving machines and computers has enabled this retailer to produce well-designed Awards, Trophies, Cups, Medals, Gifts and Glassware for their online and showroom customers. Included are their laser engravers which are used for personalising awards made of softer materials such as wood and acrylic.