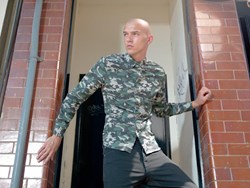 One newcomer that typifies a new spirit of independent young men's fashion is the Stanley Kane brand.
(PRWEB UK) 11 December 2013
According to a recent market report, titled 'UK Fashion Multiples' and published on Companies and Markets.com in September 2013, the British menswear market is expected to outperform all other clothing markets in the next five years, with interest in male fashion and style at an all-time high.
The revival in menswear and subsequent growth can be partly attributed to the rise of digital sales channels and eCommerce, with retailers realising that men prefer the convenience of browsing online rather than visiting traditional bricks and mortar stores. Accordingly, this rise in eCommerce has allowed men's fashion brands outside of mainstream to build niche consumer bases.
One newcomer that typifies a new spirit of independent young men's fashion is the Stanley Kane brand. Offering real-time fashion apparel, Stanley Kane draw upon indie music and culture; tapping into the latest trends to manufacture exclusive street wear designs that appeal to the fashion-conscious young man.
With a knowledge of the menswear market that spans well over two decades, the company owners explain the rationale behind Stanley Kane's existence; "Stanley Kane brings the latest trends to fashion-forward young men who are bored of the same old lifestyle brands. We deliver our clothing at affordable prices, providing a range filled with exciting choices to a far more discerning and demanding younger generation of customers."
"In keeping with our indie ethos, we will always be influenced by music. We know that, along with fashion, music is the lifeblood of youth, always at the forefront of popular youth culture".
For Stanley Kane, men's clothing is in a constant state of flux: chino's are now a staple, skinny jeans now a spray on, checks are back in but become more grunge in style, in response to this, Stanley Kane will always respond and strive to stay ahead of the game, lending their own hand to rewriting and being at the forefront of these trends.
"We are dedicated to providing young guys with cutting edge fashion every month; it's not about seasonal clothing anymore it's about what's in now."
Consisting of sweatshirts, chinos, washed shirts, jeans and jackets, the starting collection of Stanley Kane casualwear, now exclusively online, offers 80 pieces that span across five categories. A new Spring Summer 2014 collection, due to be launched this coming February, will feature up to 100 styles and will include Shorts, T-shirts, Joggers and Vests.
"Stanley Kane have the manufacturing experience, the latest products and the right independent mentality to succeed. What we will do now is to keep active on social media, pursue different channels to get the brand out there and to acquire the trust of like-minded young men who really identify with our style."
Visit Stanley Kane at http://www.stanleykane.co.uk or tune into their social media channels.