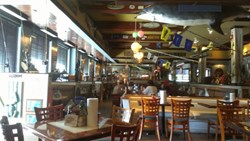 Virginia Beach, VA (PRWEB) December 10, 2013
Leading restaurant furniture manufacturer and distributor Affordable Seating recently helped Virginia Beach, VA restaurant and lounge Lucky Oyster Seafood Grill redesign its seating, by giving it a fresh look with new restaurant furniture.
Lucky Oyster Seafood Grill Is a 5 time "Best of the Beach' winner for Seafood, Raw Bar, She Crab, Lunch and Brunch. The menu highlights environmentally friendly seafood selections. Most of their seafood is locally sourced and menu options include Angus beef Burgers, Steaks, fresh Salads, Pastas and more. They also have an award winning Raw Bar and Bloody Mary Bar and Sunday Brunch.
The restaurant can host private parties and special events and also offers catering services. They offer a 50% discount on entrees to military personnel and veterans every Monday with a full-price entrée. Other nightly specials include 1/2 price on bottles of wine every Wednesday from 4pm to 9pm and fried flounder dinners for $10.99 every Tuesday night. The restaurant also features a cantina bar that has nightly specials and has widescreen televisions where guests can watch popular sporting events.
"As a venue that brings in a wide variety of customers and experiences heavy traffic every day, Lucky Oyster Seafood Grill was looking for new, stylish chairs that would help revitalize its image," Affordable Seating sales representative David explained.
The owner of Lucky Oyster Seafood Grill turned to Affordable Seating because of their reputation for excellent quality and customer service. He ordered Affordable Seating's elegant Lattice Back Wood Chairs with an ocean gray vinyl padded sea. The prices for Lattice Back Wood Chair currently start at $58. A matching bar stool is also available for $83. The chairs are made of solid wood and come in 6 standard finishes and a custom finish can be made upon request for an additional charge. Customers can choose between a padded seat which is made from American foam and vinyl or fabric or a solid wood saddle shaped seat. The padded seat can also be custom made from any material and a custom finish can also be made for an additional charge.
"The Lattice Back Wood Chairs and were perfect for what the team at Lucky Oyster Seafood Grill were looking for," David said. "The ladder back chairs are comfortable and functional, with the long-lasting durability and are reputed for their fine craftsmanship."
To view Affordable Seating's full selection of restaurant chairs, bar stools, booths, tables and patio furniture visit http://www.affordableseating.net/ or call a customer service representative at (888) 495-8884.
Lucky Oyster Seafood Grill is located at 2165 General Booth Rd., in Virginia Beach. They can be contacted at (757) 430-9600.