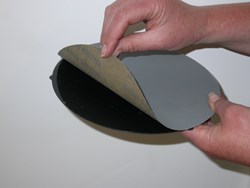 Small metallurgical laboratories can spend around £4,000 - £5,000 a year on grinding papers alone. Spectrographic's GritFix is a non-adhesive system, users could potentially save up to £3,000 per year.
Bradford, West Yorkshire (PRWEB UK) 8 January 2014
Spectrographic, leading metallurgical supplier to the material sciences industry, have launched a comprehensive new consumables range, including the popular GritFix grinding papers, a line of smart fixation metallurgical grinding papers.
GritFix's cost-effective, user-friendly design has revolutionised the metallurgical industry and to celebrate the latest addition to their extensive product line, Spectrographic are offering a 50% discount on all GritFix items when purchased with Spectrographic grinding machines.
Small metallurgical laboratories can spend around £4,000 - £5,000 a year on grinding papers alone. Because GritFix is a non-adhesive system, users could potentially save up to £3,000 per year.
The ultra-durable GritFix system supports thousands of grinding papers and has the ability to fix plain-backed grinding papers, known in the industry as 'grit papers,' securely to both automatic and manual polishing machines. This high-performance solution saves time, eliminates the problems associated with strong adhesive and worn paper holding bands, and removes the need for paper-holding clip technology.
The GritFix system has been developed with an advanced polymer technology – an extremely durable material, commonly used by the aerospace industry. This revolutionary system is available for all current machines, has a very long-life span and can even be replenished by light washing.
In line with positive feedback from customer demonstrations and long-term trials, Spectrographic reports that GritFix is fast becoming one of their most popular products.
The GritFix line, along with Spectrographic's entire new consumables product range, is stocked locally in Bradford and despatched to customers across the UK and all over the world.
Commenting on the importance of maintaining a large stock of metallurgical consumables, Managing Director, Paul Chippendale said, "Our customers are very demanding and require short lead times but we work tirelessly to meet their requirements. In most cases, we can deliver consumables to the other side of the world in less than a week. A recent order for Fiji, for example, was despatched the next day."
Spectrographic's reputation as an experienced metallurgical supplier has been built and maintained over many years as the company continues to source and develop innovative products, maintain strong relationships with top supply partners and provide excellent customer support.
About Spectrographic Limited
Spectrographic Limited offers a comprehensive range of metallographic products and equipment for material science analysis and quality inspection procedures, as well as specialist advice in material sample preparation, computer based image analysis and microscopic inspection.
Spectrographic is a family-run business, which was originally founded in 1999 as Spectrographic Laboratory Supplies. Now based in Baildon, West Yorkshire, with demonstration laboratories in Bradford, Halifax and Leamington Spa, Spectrographic was set up, and continues to be run, by Managing Director, Paul Chippendale – a skilled metallographer with over 20 years' experience in the industry.
Spectrographic's customers are expert metallurgists working in the automotive, oil and gas and aerospace industries, and for higher and further education establishments and include organisations such as Rolls Royce, BAE Systems, Siemens and Tata Steel, The University of Oxford, The University of Manchester, The University of Sheffield and DEKRA Industrial.
Contact
Paul Chippendale, MD, Spectrographic
Tel: 01274 966173
Email: paul(at)metallography(dot)co.uk