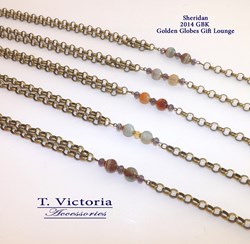 Monmouth County, NJ (PRWEB) December 11, 2013
T. Victoria Accessories to Exhibit at the 2014 GBK Golden Globes Luxury Celebrity Gift Lounge
T. Victoria Accessories (TVA) is pleased to announce that the company will be participating in the 2014 Golden Globes Luxury Celebrity Gift Lounge, hosted by GBK Productions (http://www.gbkproductions.com) on January 10-11, 2014, at an exclusive venue in Hollywood, Calif., in honor of the 2014 Golden Globe Awards Nominees and Presenters. An annual affair since 2009, this high-profile event will be attended by more than 80 A-list celebrities, and over 60 press and media outlets.
Celebrating its sophomore contribution to the Gift Lounge, T. Victoria has chosen to include its Brynn Sardonyx Necklace and Finn Men's Feather Chain Necklace to be prominently displayed at the exhibit, which is presented in conjunction with the Artisan Group (http://www.theartisangroup.org). The Brynn Sardonyx Necklace features round semi-precious Sardonyx beads, paired with brown thunder-polished crystals, three gold toned brass rings, and a combination of gold and brass toned chains. The Finn Men's Feather Chain Necklace, which is a centerpiece of the company's new men's collection, features a large pewter feather and a thick gun metal rolo brass chain.
In addition to showcasing its Brynn and Finn designs at the Artisan Group exhibit, T. Victoria has also selected its Sheridan Agate Chain Pendant for inclusion in the luxurious gift bags that will be presented to all attendees of the event. Beautifully crafted with intricate attention to detail, the Sheridan Agate Chain Pendant is a long pendant necklace created with semi-precious Agate beads and purple thunder-polished crystals.
"I am incredibly excited and honored that my creations will once again be gifted to the celebrities attending the Gift Lounge," said Tiffany V. Bobb, owner and designer at T. Victoria, whose designs have previously been gifted to such celebrities of television and film as Nia Peeples of "Pretty Little Liars", and Stephanie Drapeau of "Wish Wizard" and "The Third Rule."
The foundation of the T. Victoria collection is beauty, self-expression and confidence. Each piece is hand-crafted with love, compassion and artistic detailing, highlighting the individuality of its bearer, as well as Ms. Bobb's core belief that every woman deserves to feel beautiful and let her personality shine through in her choice of jewelry. TVA's contribution to the 2014 Gift Lounge is inspired by the power of self-expression, courage and individualism, with each of the featured pieces evoking the message that life and love are exquisite, inspirational, and filled with an array of unveiled possibilities.
About T. Victoria Accessories:
T. Victoria Accessories (TVA) is based in Monmouth County, New Jersey, and is owned and operated by Monmouth County, NJ, resident Tiffany V. Bobb. A longtime fashionista, avid shopper and connoisseur of beauty products, Ms. Bobb is a professional model, and former corporate visual merchandiser turned accessories designer and artist. Widely acknowledged for her exquisite taste, she founded her company as a reaction to never being able to find the "perfect" pieces in the boutiques she regularly frequented, searching for accessories to compliment her carefully selected fashion outfits.
Ms. Bobb utilizes a design philosophy that encompasses her impeccable sense of style and elegance, the energy of healing crystal gemstones, as well as her intrinsic values of empowerment, self-expression and personal growth. With the greatest craftsmanship and attention to detail, she carefully designs and creates each item by hand out of her New Jersey studio, using high-quality stones, beads and semi-precious healing crystals. Ms. Bobb vows to make each item a "T. Victoria Masterpiece", and takes great pride in never designing pieces she would not want to wear herself.
TVA offers several collections of jewelry and hair accessories for women all ages, and also creates custom-made pieces upon request. The company, which specializes in hand-made statement necklaces, recently added a men's collection as well as a bridal collection to its line of products. In keeping with Ms. Bobb's belief that "the more you have, the more you can give to others," TVA regularly donates gift baskets, custom-made designs and jewelry from its collections to local charities. To name but a few, the company frequently supports initiatives such as the One World Foundation and Aslan Youth Ministries, and gifted a customized jewelry basket to the silent auction of the 2013 Solutions Spring Benefit, hosted by East Harlem-based neighborhood house Union Settlement Association.
To learn more, please visit http://www.tvictoria.com or contact us at tiffany(at)tiffanyvictoria(dot)com.