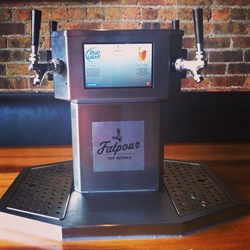 Owners get the satisfaction of knowing that kegs pouring through our taps cost 25% less with no waste.
Chicago, IL (PRWEB) December 13, 2013
Recently voted Best Beer Bar in the US by 'Nightclub & Bar' the ownership are not resting on their laurels. From the outset, the focus has always been to "Think and Drink different". They back up their robust beer list with a menu that attracts "foodies" for miles around. Their menu was also built with beer in mind. It is itemized by color code to show you what particular beer style would suit your gastronomic choice best.
Indeed 'best' is a superlative that fits Fatpour Tapworks. The establishment is owned and managed by the Big Onion Tavern Group who have five other successful concepts in the Chicago metro area. Their seventh location is due to open in the coming weeks and will host the self-serve concept there as well.
They sought out a self-serve beer system when they opened the location initially and what they got was one that did not work as billed and, worse, went unsupported by the company that sold them the system.
"The new system has been much more impressive and reliable than the one we had previously," said Ryan Marks of the Big Onion Tavern Group.
Customers can access beer themselves in a controlled manner. Patrons are served up to a limit of two beers per person at the tables. Once they hit their limit, they are re-assessed by staff and re-upped for two more if they are deemed to be OK for re-serving. "While the concept brings that initial wow factor to the patrons, the owners get the satisfaction of knowing that kegs pouring through our taps cost 25% less with no waste," said Josh Goodman, PourMyBeer Owner and Co-founder. "Having the opportunity to work with Ryan and the Big Onion Tavern Group has been great. These guys have definitely figured out the ingredients required to build and maintain very successful, long-lasting Restaurants & Bars."
Consumer choice, increased sales from no waiting for service and maximizing keg yield are the three things that brought Fatpour to the concept originally.
"Now that we finally have a working system in place we are realizing what we had envisioned when we sought it out at the beginning," said Marks.
http://www.pourmybeer.com is an Innovative Tap Solutions Company. The company was formed in MD in 2008 and made the first commercial mobile self-serve beer tables in the US. It also sells and distributes built-in beer walls, mobile beer walls, built-in draft tables and mobile draft self-serve tables. All mobile equipment is proudly made in the USA. Contact sales (at) pourmybeer (dot) com or call 215-219-9203/443-691-2337.