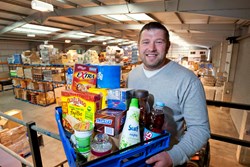 The community shop in Goldthorpe is a good idea, but why should the savings only be available to a limited few?
Sheffield, South Yorkshire (PRWEB UK) 10 December 2013
Approved Food is a UK market-leader for retailing discounted grocery goods, and their management staff naturally follow news about this sector with a great level of interest. There has been a large amount of buzz on Social Media about the proposed "Community Shop" in Goldthorpe, and with more stores in the pipeline, this seemingly "brand-new" type of retailer will continue to spark a passionate debate within the general public.
"The community shop in Goldthorpe is a good idea, but why should the savings only be available to a limited few?"
This is the question that has already been asked thousands of times over during the last few days, and last night a wave of UK families who are not eligible for the shopping discounts of the new South Yorkshire-based 'Community Shop' vented their frustrations on social media sites.
The 'Community Shop' offers a helping hand for up to 500 eligible families by offering savings on shopping that can be as much as 70% on big-brand names. Eligibility is based upon certain social and economic criteria, and many people, while applauding the scheme, are also outraged at what appears to be a 'private members club' for people on welfare support.
Users on Twitter seem to be making the most of their 140 characters, and the general opinion is that while the idea could potentially benefit a large number of people, there are still many tens of thousands of families that fall into a sort of 'in between' situation - meaning that they earn just enough to not be eligible for welfare support, while budgets remain tight. Certain other media outlets have a reputation for attracting comments that are extremely 'anti-benefits,' and this story has seen an inevitable rush of users condemning the very people that this store has been aimed at. Whatever the public may feel about this new shop, it is vital to remember that this kind of business model isn't entirely groundbreaking and unique.
Last night Dan Cluderay, the founder of approvedfood.co.uk said:
"The Community Shop is a fantastic idea, and it makes common sense as a solution for food waste. It's unfortunate that these goods and savings are not available to the whole country.
It's not just the poor who are feeling the pinch, middle England is also struggling, and I understand the frustration that is felt by the rest of the nation.
Approved Food has been offering savings of up to 70% since 2008 and is open to everyone, everywhere - regardless of their income."
http://www.approvedfood.co.uk is the biggest online seller of clearance food and drink, with over 100,000 customers in the UK and Europe.