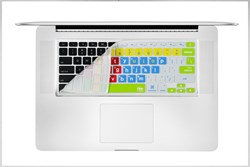 ProTouch Kids Protector helps teach Kids how to type.
Chicago, IL (PRWEB) December 10, 2013
iSkin, a premium brand of fashion and technology lifestyle accessories, announces stylish and functional keyboard protection with its new lineup of ProTouch keyboard protectors. ProTouch helps to protect the keyboard on the MacBook, MacBook Pro (Retina) and MacBook Air 13" as well as the Apple keyboard that comes with the iMac. It quickly and easily overlays the keyboard, creating an effective barrier against daily hazards.
ProTouch is designed to offer effective protection against food spills, dust, dirt, hair, fur and other impurities that could lodge between the keys and cause permanent damage. It's engineered to wrap each key individually for a natural, barely-there typing feel. ProTouch is made from a pure, ultra-thin silicone that's BPA-, phthalates- and lead-free. This makes it ideal for use with small children and those with hypersensitive immune systems.
iSkin has added more value to the line up with a collection that includes printed application commands, fashionable patterns, printed languages and visual enhancements. The collection also includes a child-focused edition that features color-highlighted left and right hand key characters, vowels, numbers and more.
iSkin released its first ProTouch keyboard protector in 2004 and it quickly became the standard for Apple keyboard protection. Unlike plastic-based keyboard covers, the ProTouch does not warp with use or become cracked or yellowed with time. In fact, it may be removed and washed with liquid detergent and hot water for reuse.
ProTouch keyboard protectors are designed for North American Keyboards with some models compatible with the ISO (European) keyboard key layout.
New ProTouch Editions:
ProTouch Assist Kids: Large lower-case printed characters with color-coded numbers, left-hand and right-hand keys, navigation keys and vowels make the keys easier for kids to find.
ProTouch Assist Languages: Printed characters for the following languages: Spanish, Cyrillic, Korean and Hebrew. Foreign language keyboard protectors let you type foreign languages with your keyboard.
ProTouch Visual Assist: Enlarged key letters printed in black onto a yellow background for optimal contrast makes the keyboard legible for the visually impaired and for those with poor vision.
ProTouch for Traktor 2: Printed keyboard shortcut commands for the popular DJ software Traktor by Native Instruments.
ProTouch FX: Printed chevron, camo and wood patterns that give a splash of style to serious protection. Also available in solid black keys to mimic the Apple MacBook keyboard.
ProTouch Classic: The Classic is a clear keyboard protector which provides full protection with a minimalist profile. ProTouch classic is the ideal choice for backlit keyboards.
About iSkin Inc.
iSkin Inc. has been one of the world's most trusted mobile accessory brands since its first advanced protective solution for the iPod® in 2002. Known for its cool, innovative designs and fashion-forward style, iSkin continues to be the leading mobile accessory brand. iSkin continues to focus on delivering the highest quality, innovative design and fashion-forward style in accessories for Apple®, BlackBerry® and now Samsung®.
The iSkin word mark and logo are registered trademarks of iSkin Inc., registered in Canada, the United States and other countries. All Rights Reserved 2006-2013. Apple®, iPad® and iPad® mini are trademarks of Apple Inc., registered in the U.S. and other countries. Other company and product names mentioned herein are registered trademarks of their respective companies.