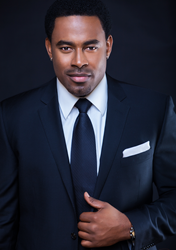 There will be no fear of bad luck with Lamman Rucker and a bevy of bodacious beauties in the house.
New York, NY (PRWEB) December 11, 2013
Lamman Rucker known for his heartthrob roles on television and film will be making a very special appearance at the Grand Opening of Nfinite Form Ntimates, a retailer specializing in plus-size intimate attire and women's apparel, on Friday, December 13, 2013 beginning at 7:00 pm, 443 Broad St., Bloomfield, NJ 07003.
Billed officially as "Black Lace Friday," there will be no fear of bad luck with Lamman Rucker and a bevy of bodacious beauties in the house. The evening will be filled with fun and fantasy as everyone in attendance will be left in awe of all the sophisticated yet sexy options being offered to the woman with curves.
The company was started by mother and daughter, Paula Michelle and Trese', respectively. They became frustrated with all the "tired" options in full-figured fashion. So they started an event called International National New Jersey Full Figured Fashion Week that grew into an affair as huge as its name. The ladies didn't stop there. Because of the great reception received from their fashion week, they decided to give their clientele more of what they wanted, a retail lingerie location with "the ideal image of EVERYbody." "It's been a long road to where we are now but we're here!" says Paula Michelle, CEO/Founder of Nfinite Form.
The evening boasts a fine sip and sale, hors d'oeuvres, a café-style fashion show featuring Nfinite Forms own answer to "you-know-who's" Angels, "The Gems" and of course the oh-so-sexy, Mr. Lamman Rucker. Mr. Rucker came to fame as Jill Scott's "Mr. Right, Sheriff Troy in "Tyler Perry's Why Did I Get Married" and Why Did I Get Married Too.
The grand opening of Nfinite Form's new brick and mortar location with Lamman Rucker will be one Black Lace Friday the 13th Bloomfield, NJ will never forget.