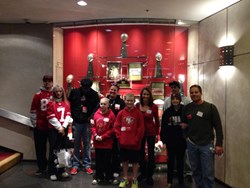 Santa Clara, CA (PRWEB) December 10, 2013
Giving back to the community in the most powerful and encouraging way possible, the San Francisco 49ers hosted five courageous kids battling life threatening illness on Wednesday, December 5 at the team's practice at their training facility in Santa Clara, CA.
The courageous kids and their parents all are part of the national movement of caring started in 2011 by 11-year-old Jessie Rees, shortly after her diagnosis with inoperable brain cancer. Deciding that she was going to care for the kids undergoing treatment alongside her, Jessie started to package small, hospital and treatment friendly toys in JoyJars, completing 3,000 jars and founding the Foundation that bears her name during her 10 month battle. For her bravery and dedication, CNN named her a 'Young Wonder' in 2012.
"Jessie loved sports, and was always active, so being able to take kids facing illness like she did to the San Francisco 49ers is the fulfillment of a lot of dreams," said Erik Rees, Jessie's Daddy and Chairman of the Jessie Rees Foundation. "It was awesome to have each of the kids: Gavin, Tyler, Lyndsey, Tyler, and Jeremiah get to see how much these great athletes care about them."
During their visit with the 49ers, the kids received a tour of headquarters, the opportunity to watch the team practice and workout, trade stories and receive autographs from the players.
"The players and the whole team were just great," said Kaitlin Sandeno, four-time Olympic and gold medalist and Foundation national spokesperson. "Each of the kids had a blast and were completely encouraged to live out Jessie's motto of 'Never Ever Give Up' or NEGU for short."
According to the team, the players were equally encouraged as the kids.
"Our team was energized after the visit with these five fighters," said Heather Curry, Community Relations, San Francisco 49ers. "The excitement and pure joy that these kids brought to our facility has a powerful and positive impact on our players, coaches and personnel."
For more information, pictures, and video of the visit, please go to the Jessie Rees Foundation's Facebook page at: http://ow.ly/rCZsM.
Participant Background
Jessie Rees Foundation | http://jessie.org
Founded in 2011 by Jessie Rees and her family during her fight with inoperable brain cancer, the Foundation helps kids Never Ever Give Up in their quest for healing from cancer. Distributing Jessie's JoyJars © through 260 children's hospitals, and every Ronald McDonald House in the US, the Foundation has provided over 70,000 JoyJars to kids and families through the support of major corporate partners UPS, Life Technologies, Anthem Blue Cross of California and others. The Foundation has provided 100% of the JoyJars at no cost to the hospital or recipients and is completely funded through private donations.
Contact:
Jeff Gibson (949) 851-8511
jgibson(at)race(dot)com