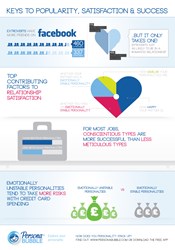 Oxford, UK (PRWEB UK) 11 December 2013
Based on real scientific research and compiled by a team of expert psychologists, data analysts and digital pros, Persona Bubble offers free personality tests via its website and mobile apps.
The first area explored in Persona Bubble's research was the correlation between personality and relationships. The team of psychologists and data analysts sampled a sub-section consisting of 5,000 members from PersonaBubble's user base and discovered that extroverts are connected with more people on Facebook compared to introverts. However, introverts are just as likely to be in a romantic relationship, the data also suggests.
The next area that the team examined was the link between personality and work performance. Many psychology studies have demonstrated that more conscientious personalities show a strong correlation with work performance with many jobs. However, Rob Bailey who leads the team of psychologists at Persona Bubble pointed out that "It is important to remember that for some jobs, such as expressive, artistic or less corporate roles, less meticulous personality types may be more successful."
The next dimension researched was the link between personality and satisfaction with romantic relationships. Over 4,500 couples completed PersonaBubble's personality questionnaire and questions that looked at how satisfied they were in their relationship. The results showed that there was a link between relationship satisfaction and the emotional stability of both partners. Furthermore, having a similar personality to a partner was also linked to relationship satisfaction, providing evidence that opposites don't attract.
Finally, the team researched the connection between personality and spending habits. Research published in the Journal of Marketing Theory and Practice in 2007, led by researchers Pirog and Roberts, suggests that emotional instability is positively associated with more frivolous spending habits, such as credit card misuse. "Credit card misuse" is inclusive of elements such as being not concerned with the price of the product, going over the available credit card limit or not paying off the credit card limit, being impulsive, having lots of credit cards and more reckless spending.
Rob Bailey, Senior R&D Consultant for Persona Bubble said, "This information is not only interesting, it is also useful in helping people understand the impact of personality in every aspect of life. In just a few minutes our test delivers meaningful results to help you understand yourself and others on a deeper level."
PersonaBubble's free and accurate personality test is quick and reveals deep and accurate insights about your personality. The optional social comparison reports will help you understand your friends, work colleagues, housemates, family, and romantic partners so that you can overcome a personality clash, or check out someone special in your life – what makes them tick and how to get along better. The website and iPhone app is currently available and the Android app will be available on 10 December 2013.
For more information visit http://www.personabubble.com.
For more information about the mobile apps, visit: http://personabubble.com/mobileapp/.
You can also view a high resolution version of the Keys to Happiness, Success & Wealth Infographic here.