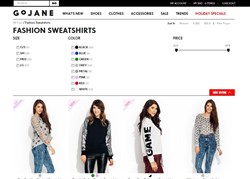 Los Angeles, CA (PRWEB) December 11, 2013
GoJane's former website included multiple images for each product, but the company found that customers found the photos insufficient. "Our customers had trouble viewing details on some of our items, like smaller embellishments or particular fabrics," says GoJane stylist and blogger Emily Devine. The improved website features impressively larger images in a variety of views and detail shots to help make choosing the perfect products online as informative as possible.
The newly redesigned GoJane website also boasts better filtering options so that customers can search for products they love without having to browse pages of products they don't. These filters allow users to search by colors, prices and sizes of products in any category, from jackets to handbags. "We hope that by using these filters, customers will find the products they love more quickly than before," says Devine, "We can also minimize the likelihood of a return, helping customers find the perfect dress or pair of jeans on the first try using customized filters."
More thoughtful navigation in the site's top tabs also makes it easier to transition from one product or category to another on the GoJane website. The "Trends" section allows customers to discover new styles that they may not have worn before, from mesh clothing to high waisted bottoms. The "Sale" section is filled with discounted items, and the "New Items" tab takes users to a constantly updated selection of new products. More specific subcategories within each tab also make GoJane's interface a fast and efficient way to shop for clothing online.
GoJane is an online retailer of fashion-forward apparel for progressive young women. The website offers all of the latest trends in clothing and accessories for a fraction of the cost of designer brands. GoJane's helpful customer service team is available five days a week, and their 30-day return policy makes finding the right size fast and easy.