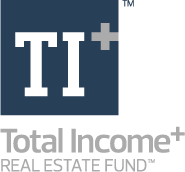 (PRWEB) December 10, 2013
Based on data published by Morningstar, total returns for the TI+ Fund A-shares (no load) ranked 6th highest among the universe of 83 real estate focused open-end and closed-end funds tracked by Morningstar for the one year period ending October 22, 2013.
TI+ is sub-advised by Mercer Investment Management, Inc., the world's leading advisor to endowments, pension funds, sovereign wealth funds and family offices. Mercer has $6.6 trillion in assets under advisement, with more than 3,000 clients worldwide.
The fund invests the majority of its assets in private real estate portfolios normally available only to institutional investors who meet the multi-million dollar minimum investment criteria. It is currently invested in several leading institutional private equity real estate funds whose underlying real estate investments exceed, in aggregate, $26 billion. These funds include, among others, Blackrock Granite Property Fund, RREEF America REIT II, Clarion Lion Properties Fund and the Principal Enhanced Property Fund.
"Mercer's research, the rigor of its selection process as well as its access to premier private equity real estate funds have made it possible for TI+ to invest on behalf of its investors in many of the country's best performing and most exclusive funds," said Ramin Kamfar, CEO of Bluerock Real Estate, L.L.C., the fund's sponsor. At present, assets under management exceed $46 million. The minimum investment in the fund is $2,500 ($1,000 for retirement plans).
*TI+ began trading October 12, 2012 and closed the first year with a return of 13.59% (excluding sales load) and 7.03% (with the highest possible sales load). From inception through the last calendar quarter, ending September 30, 2013, returns for Class A shares ranged from 11.50% (excluding sales load) to 5.07% (including maximum sales load). We note that for our first year only, the advisor, and not the Fund, paid Fund expenses and waived management fees. The maximum sales charge for the fund is 5.75%, total annual operating expenses are 3.77% for its initial startup year, which were fully paid by the Sponsor.
Investors may be eligible for a reduction in sales charges.
This is an actively managed dynamic portfolio. There is no guarantee that any investment (or this investment) will achieve its objectives, goals, generate positive returns, or avoid losses. The performance data quoted herein represents past performance. Current performance may be lower or higher than the performance data quoted above. Investment return and principal value will fluctuate, so that shares, when redeemed, may be worth more or less than their original cost. Past performance is no guarantee of future results. The fund's investment advisor has contractually agreed to reduce its fees and/or absorb expenses of the fund, at least until January 31, 2015, to ensure that the net annual fund operating expenses will not exceed 1.95%, subject to possible recoupment from the fund in future years. Please review the fund's prospectus for more detail on the expense waiver. Results shown reflect the full fee waiver, without which the results could have been lower. A fund's performance, especially for very short periods of time, should not be the sole factor in making your investment decisions.
For copies of TI+ public company filings, please visit the U.S. Securities and Exchange Commission's website at http://www.sec.gov or the Company's website at http://www.BLUEROCKFUNDS.com.
About Total Income+ Real Estate Fund
The TI+ offers individual investors access to a portfolio of institutional real estate securities managed by top-ranked fund managers. The fund seeks to provide a comprehensive real estate holding designed to provide a combination of current income, capital preservation, long-term capital appreciation and enhanced portfolio diversification with low to moderate volatility and low correlation to the broader equity and fixed income markets.
Investing in the Total Income+ Real Estate Fund involves risks, including the loss of principal. The Fund intends to make investments in multiple real estate securities that may subject the Fund to additional fees and expenses, including management and performance fees, which could negatively affect returns and could expose the Fund to additional risk, including lack of control, as further described in the prospectus. There can be no assurance that any investment will be effective in achieving the Fund's investment objectives, delivering positive returns or avoiding losses.
Investors should carefully consider the investment objectives, risks, charges and expenses of the Total Income+ Real Estate Fund. This and other important information about the Fund is contained in the prospectus, which can be obtained by calling 888-459-1059. The prospectus should be read carefully before investing. Bluerock Fund Advisor, LLC is not affiliated with Northern Lights Distributors, LLC.
2927-NLD-11/25/2013