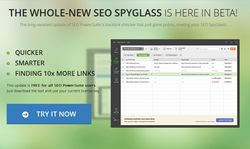 Months of coding, years of analysis, and almost 10 years of thoughts and hopes. And today the updated SEO SpyGlass is released!
Minsk, Belarus (PRWEB) December 10, 2013
Link-Assistant.Com, the leading SEO and SMM software developer and marketer, announced the launch of a fully-redesigned and re-developed SEO SpyGlass. The well-known tool for backlink research and analysis has got a completely new user interface, deeper integration with the largest growing backlink index, and a set of new advanced features.
This is what the new SEO SpyGlass is capable of:

collecting 10X more backlinks;
10X faster backlink analysis;
organizing/sorting backlink data in an easier and more convenient way;
deeper comparative project analysis;
and a lot more.
About new generation SEO SpyGlass
"Months of coding, years of analysis, and almost 10 years of thoughts and hopes! Today we're really excited with the release of the updated SEO SpyGlass," says Viktar Khamianok, CEO, Link-Assistant.Com.
"SEO has undergone dramatic changes recently, even if we look at 2013 Google updates alone. New industry standards require updated tools, and SEO SpyGlass is here to help. It'll provide users with 10 times more links, bringing their link research to a whole new level!" continues Viktar.
The updated SEO SpyGlass will be available for download to all the current users. The tool is not included into the regular automatic updates yet, the new version will be available for download here.
About SEO SpyGlass Special Offer
Those, who once purchased SEO SpyGlass licenses but for some reason didn't extend Search Algo Updates subscription, can try a new version of the backlink tool totally free of charge! The free 7-day trial will be available for everyone whose subscription has run out here.
Important Notice
Today's SEO SpyGlass release is a Beta. The stable version of the tool will be released soon.
About Link-Assistant.Com
Founded in 2005, Link-Assistant.Com is a global provider of solutions for search engine optimization and social media marketing. The company's product portfolio lists SEO PowerSuite (all-embracing top-class SEO software) and BuzzBundle (tool for advanced social media management). The company's software has been recognized as a trusted standard in multiple industry segments: from blogging and individual website promotion to enterprise level SEO.
Keep abreast of the latest industry news – say Hello to Link-Assistant.Com on Facebook fb.me/LinkAssistant, Twitter @LinkAssistant or Google Plus gplus.to/LinkAssistant. To learn more about the latest SEO trends, visit the company's blog: http://www.link-assistant.com/blog/.