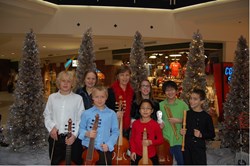 Saint Paul, MN (PRWEB) December 10, 2013
The Saint Paul Conservatory of Music will hold its Holiday Music Festival from 6-7 pm. Wednesday, Dec. 18, at the Mall of America Rotunda. Performers will include the Saint Paul Conservatory of Music Renaissance Band and String Ensemble, as well as Thunder Wave, a group of Japanese dancers, drummers and more organized by SPCM teacher Asako Hirabayashi.
Thunder Wave will be accompanied by Hirabayashi, an award-winning composer and virtuoso international SPCM harpsichordist, as well as guest artist Momoko Tanno, an award-winning versatile singer, and Susan Tanabe, a leading Japanese taiko drummer of Mu Performing Arts. Thunder Wave consists of Japanese students studying at Minneapolis Japanese School. The group made its debut performance at Sundin Music Hall in St. Paul in 2002, receiving a standing ovation for their energetic dance of Soran Bushi.
Thunder Wave does pop arrangements of traditional Japanese songs, as well as new songs rooted in Japanese culture, while wearing modern arrangements of traditional Japanese Kimono. They will perform festive Japanese holiday music.
The Renaissance Band is presented by Julie Elhard, considered to be the best viola da gamba player in the Midwest. The band will perform Christmas music from the Renaissance era using historical instruments. The string orchestra will be led by violinist Leif Petersen, specializing in Suzuki method and performing Christmas repertoire.
For more information, visit the Saint Paul Conservatory of Music website at http://www.thespcm.org.
About the Company
The Saint Paul Conservatory of Music is a music education center offering a wide range of musical instruction for all ages, in both individual and group settings. The faculty is of the highest caliber, including artists/teachers with well-established reputations. The Conservatory has systematically developed a music program with demanding, yet age-appropriate expectations, with the ability to effectively teach the youngest of students as well as prepare those seeking to become music majors. They are also able to meet the needs of students who are lifelong learners of music and music appreciation.
Since 1985, the Saint Paul Conservatory of Music has provided high quality music education to the metropolitan community. Originally under the auspices of The University of St. Thomas, the school became an independent non-profit community music school in June 2001. The facility in downtown Saint Paul provides an exciting venue for the continuing commitment to providing excellence in music for all ages. As an independent organization, they are able to broaden their mission as a music school ensuring that quality music is available to an ever-widening segment of the community.