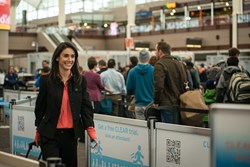 '#CheerfromCLEAR will make our members' experience even better with great gifts from cool companies we love.' - Caryn Seidman Becker, Chairman and CEO of CLEAR.
New York, NY (PRWEB) December 11, 2013
CLEAR, the fastest, most reliable way to skip long airport security lines, is launching #CheerfromCLEAR to ease chaotic holiday travel and bring new benefits to members. This exciting new campaign will launch on Friday, December 13 and will give each member daily gifts, valued at over $300 per person over 12 days. Gifts will be given out both online and in the CLEARlanes at airport locations.
Participating partners include: Inc. and Fast Company Magazines, Jetsetter, UBER, Rocketmiles, Groundlink, Silvercar, Regus, Luggage Forward, KIND Healthy Snacks, Pilot + Captain, and 3floz. CLEAR partners are excited to help busy travelers enjoy their airport experience during the holidays. Each day a new gift from one partner will be announced through email, social media, and in the airports. New members will be included and can participate if they enroll in CLEAR anytime during #CheerfromCLEAR.
"Traveling can be exhausting during the holidays. Our mission at CLEAR is to create frictionless and fun travel. #CheerfromCLEAR will make our members' experience even better with great gifts from cool companies we love," said CLEAR Chairman and CEO Caryn Seidman Becker. "Our goal is to make the travel experience, not just better, but awesome."
ABOUT CLEAR
CLEAR uses biometric technology to identify members and speed them through airport security in under 5 minutes on average, effectively eliminating lines and transforming travel. CLEAR's secure technology platform delivers certainty of speed and the highest level of service to members at the airport, while also enhancing airport security.
Certified by the Department of Homeland Security as Qualified Anti-Terrorism Technology, CLEAR transforms the travel experience by allowing members to use their biometrics (fingerprint or iris) to speed through security at major US airports. CLEAR membership is less than $15/month for unlimited use in all locations. Members can add their spouse or partner for an additional $50, and children under 18 always fly free through the CLEAR lane. Military and corporate discounts are also available.
CLEAR operates at San Francisco, San Jose, Denver, Dallas-Fort Worth, San Antonio, and Orlando, at Westchester in New York and will be opening in both Houston airports next week. CLEAR has a growing base of over 265,000 members nationwide and has been used over one million times. CLEAR is currently expanding to bring its timesaving, secure biometric technology (fingerprint and iris technology) to airports around the country and is now integrated with TSA PreCheck in all CLEAR locations. Enrollment is fast and easy and can be done at any of CLEAR's enrollment centers (clearme.com/enrollment-centers). For more information on how CLEAR is changing the way people travel, visit clearme.com.
ABOUT CLEAR PARTNERS
Silvercar
Silvercar is on a mission to remake the airport car rental business. They are committed to delivering the industry's most innovative products, the most professional concierge service, and the finest fleet of cars anywhere. They believe you deserve the best airport car rental experience possible and promise to deliver this every time you choose Silvercar.
https://www.silvercar.com/#/
Luggage Forward
Luggage Forward's door-to-door luggage shipping service is easy, safe and guaranteed to arrive on time. You can breeze through the airport when you ship luggage to your hotel, cruise line, golf course, residence or office where it will be awaiting your arrival. Luggage shipping provides total travel convenience.
http://www.luggageforward.com
Rocketmiles
Rocketmiles enables travelers to take their dream vacations faster by offering thousands of airline miles and points for booking hotels. Find the same room at the same price as other online travel agencies while earning an average of 7,000 miles or points per hotel booking at Rocketmiles.com.
https://www.rocketmiles.com
Uber
Uber is evolving the way the world moves. By seamlessly connecting riders to drivers through our apps, we make cities more accessible, opening up more possibilities for riders and more business for drivers. From our founding in 2009 to our launches in over 50 cities today, Uber's rapidly expanding global presence continues to bring people and their cities closer. For further information, visit http://www.uber.com.
Jetsetter
Jetsetter is a private online community dedicated to providing members with insider access to the places they want to go at prices unavailable to the general public. Their philosophy is that travel should be fun and easy - including the planning part. Jetsetter aims to simplify things. Great hotels at great prices. No guesswork, no games. That's Jetsetter.
http://www.jetsetter.com
Regus
Regus is the world's largest provider of flexible workplaces, with products and services ranging from fully equipped offices to professional meeting rooms, business lounges and the world's largest network of video communication studios. Regus enables people to work their way, whether it's from home, on the road or from an office. Customers such as Google, GlaxoSmithKline, and Nokia join hundreds of thousands of growing small and medium businesses that benefit from outsourcing their office and workplace needs to Regus, allowing them to focus on their core activities.
GroundLink
Founded in 2003 and headquartered in New York, GroundLink is an established aggregator and solutions provider to the ground travel industry. Using proprietary technologies and applications, the company aggregates, manages and executes ground travel services under its own brand worldwide. GroundLink acts as the merchant of record for transactions and is responsible for execution and transaction settlement with all its affiliates.
http://www.groundlink.com
KIND
There's healthy. There's tasty. Then there's healthy and tasty. At KIND, they believe you deserve both—they call it their brAND philosophy. That's why you'll find all KIND snacks are pretty much the nirvana of healthful tastiness. What began with just 8 bar varieties in 2004 has grown to over 22 bars and 6 Healthy Grains snackable clusters, and a multitude of new recipes being perfected and refined to their standards in the KIND kitchen.
http://www.kindsnacks.com
Pilot & Captain
Pilot & Captain is about the good old days of planes, trains, and discovery. Founded by Dustin Summers and Jason Kernevich, the duo behind the award-winning design studio The Heads of State, Pilot & Captain has set sail with an exclusive collection of city-specific t-shirts and posters with more locations, prints, and products just around the bend. Whether you're planning an adventure, rooting for the home team, or just hunting for souvenirs, you're welcome aboard.
http://pilotandcaptain.com
Inc. Magazine + Fast Company Magazine
Inc. magazine is the leading authority on entrepreneurship. Each issue delivers real solutions to help today's innovative business builders start, run and grow their business.
http://www.inc.com
Fast Company magazine focuses on innovation, technology and design to inspire creative minds in business to think beyond traditional boundaries and create the future of business.
http://www.fastcompany.com
3floz
3floz.com specializes in travel-friendly beauty, grooming and wellness products. Founders, Alexi and Kate, created the company, as a one-stop-shop for all of your favorite TSAfriendly beauty products. Problems solved. They handpick only their favorite brands, products they are passionate about or products they want you to fall in love with. They will ship to you or directly to your hotel, whichever makes your traveling easier.
http://www.3floz.com