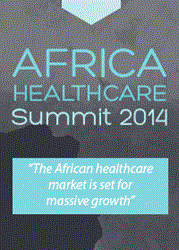 (PRWEB UK) 11 December 2013
The Africa Healthcare Summit 2014, 20-21 February, being held in London, is the ideal platform to explore the latest investment opportunities within Africa's healthcare industry and discover the latest regulatory changes, technological advancements, innovations and techniques. Bringing large delegations of government ministers, senior hospital directors and healthcare professionals to Europe to network with international healthcare experts, investors and solution providers. Some of the many Ministries confirmed to give presentations at the event include;
Ministry of Health – Mozambique
Ministry of Health, Ghana
Ministry of Health, The Republic of Kenya
Zimbabwe Ministry of Health
A 2-day Conference, 40-booth exhibition, panel discussion and networking event, taking place in a 5-star venue in London. Speakers will be addressing a range of issues from; the future outlook for healthcare provision across Africa, and Developing a World Class Healthcare System on a Realistic Price Tag, to Strategies to Develop Africa's Private Healthcare Sector, Tackling Gaps in Financing, and Public-Private Partnerships in Tele-Medicine.
With an exclusive Webinar and live streaming from the conference with a live chat accessible, we will also be providing African organisations with the footage, PowerPoint presentations and papers from the conference shortly after the event. This access and the package will be complimentary.
The healthcare industry is set for huge growth across the world over the next coming years, particularly in Africa. The economic boom in many African countries has fuelled demand for improved healthcare. As governments try to meet demand and begin to implement universal health schemes, and the Africa sector undergoes "major policy, system and infrastructural changes" (KPMG), investor opportunities are increasing tenfold. And as technology continues to develop within the region, the healthcare industry will only continue to expand.
For more information on the Africa Health care Summit 2014, please contact: charlotte(at)oliverkinross(dot)com.