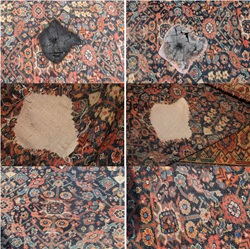 This was a great chance for us to demonstrate the skills and experience we have at Pars Rug Gallery, and it was fantastic to have such a happy customer.
(PRWEB UK) 11 December 2013
Pars Rug Gallery carry out many restorations of antique and oriental rugs throughout the year, which often are a straightforward job of reweaving the selvages (edges) and replacing the stoppers (the tassels) at the end of the rug. This summer, they were faced with a larger challenge following a call from Servicemaster.
They were presented with a huge Persian Farahan rug that had been involved in a fire, where a bucket of burning coals had been placed on it resulting in a big black hole! Servicemaster called to see if they could help them, as their customer had particularly wanted the rug repaired because of its sentimental value. The burn was approximately 12 inches across, so it was a large area that needed restoration.
Pars Rug Gallery are based in Romsey in Hampshire, with other showrooms around the South. Arash Karimzadeh, managing director, has over 40 years experience of working with handwoven rugs and is a renowned authority on the subject, meaning that they are able to clean and restore every type of rug, as well as help you find the perfect rug or carpet for your home.
As you can see, the burn had damaged the rug very badly, almost seemingly beyond repair!
Pars Rug Gallery took the rug into their workshop and set about cutting away the damaged fibres, which resulted in an even bigger hole than there was originally, but every single damaged fibre had to go if the rug was ever to look good again. This was a huge restoration job and required expertise in design and dexterity.
Their highly skilled restorer Ali set about redrawing the pattern that had been lost, using the pattern on the rest of the rug as a guide. They sourced the wools required from rugs of a similar age and colour so that it looked authentic, and then the painstaking process of reweaving began. This work is intricate and it took several weeks to complete but as you can see the repair is almost imperceptible and certainly to the untrained eye looks perfect.
If you have a rug requiring expert cleaning or restoration, please call the team on 01794 524040, email at pars(at)orientalrug(dot)uk.com or visit our website for further information – http://www.parsruggallery.co.uk.