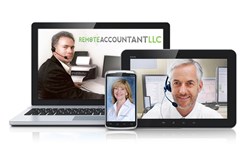 Refer a new small business or individual to us for accounting, bookkeeping, or tax filing services & make lifetime residual commissions on them paid monthly. 15% of our monthly gross billings for each of your referrals, we will pay you monthly
Portland, Oregon (PRWEB) December 10, 2013
Remote Accountant, LLC, a national US full service accounting, bookkeeping and tax firm that caters to small businesses and individuals with full cycle accounting, bookkeeping and year-round tax services, announces today that they are currently seeking additional Independent Sales Reps across the USA to market their services.
They have developed a unique sales commission program and basically offer an unheard of lifetime account residual payment paid monthly based off the independent reps small business or individual account referrals. Many reps have indicated how surprised they were how the commissions added up after a year of working on generating referral leads for Remote Accountant, LLC.
Their program truly presents an opportunity perfect for networkers, marketers, sales reps, insurance agents, real estate professionals, bookkeepers, accountants, tax preparers, attorneys and anyone else who has contact with people or small businesses to have an additional revenue stream in this day and age, with a unheard of plus being lifetime active account residual commissions.
The commission plan details are simple: a 15% monthly commission check or electronic payment paid for the previous monthly billing cycle on Remote Accountant, LLC's gross monthly charges for the reps existing referrals forever for the life of the active account, which is very nice considering most clients remain with accounting firms for decades.
This program is also a great plan for a retiring CPA or bookkeeping firm to pass off their client base and workload and continue to receive lifetime active account residual commissions on the client base they worked so hard to build.
Remote Accountant, LLC. has additional details and sign up information on its website at
http://www.remoteaccountantllc.com and click on the tab Reps.