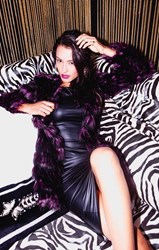 Los Angeles, CA (PRWEB) December 19, 2013
GoJane's "Material Girl" collection is designed to appeal to stylish young women with a taste for luxury, but who may not be able to afford expensive designer brands.
"These items look flashy, like something you would wear on a night on the town somewhere like New York or Paris," says GoJane stylist and blogger Emily Devine, "But they're all available at prices that the average girl can easily afford."
The lookbook itself is fresh and glamorous, with dark, dramatic colors and a bold urban flair that girls everywhere from the city to the suburb will be inspired by.
The items in the "Material Girl" lookbook are ideal for parties or other festive occasions, but they have a bit of an edge. "The Love Hate Relationship Top is one of the most unique pieces, and its cropped style and gold print down the sleeves make it perfect to wear underneath the Faux Leather Overalls," says Devine. "All of these pieces can be mixed and matched with each other, and that's what makes the collection so seamless." GoJane's "Material Girl" items also include a striped fur coat that's both classic and a bit modern, chunky booties, brightly colored heels and an off-the-shoulder midi dress in three bold shades.
GoJane is an online retailer of fashion-forward apparel for progressive young women. The website offers all of the latest trends in clothing and accessories for a fraction of the cost of designer brands. GoJane's helpful customer service team is available five days a week, and their 30-day return policy makes finding the right size fast and easy.