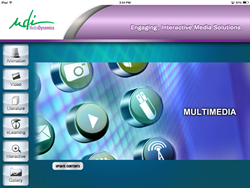 (PRWEB) December 11, 2013
At a time when businesses are looking to increase their use of mobile apps for their presentations while controlling the expenses associated with updates and upgrades, Media Dynamics has developed a customized, user-updatable solution--the CustomPitch app.
The CustomPitch app is a custom-branded iPad presentation app that allows the user to store andpresent all materials from within one app. It has a Content Management System on the backend, allowing customer administrators to easily update content on the app. Presentation materials that can be used in the app include Word documents, videos, animations, excel files, .pdfs, PowerPoint and Keynote presentations as well as image files.
"The most attractive features of the CustomPitch app for our customers are the ability for them to completely customize the interface and navigation and update their presentations quickly and easily using a custom-designed, easy-to-use Content Management System," explains Ron Trilling, Partner at Media Dynamics. Push notifications allow for quick and easy communication of new updates that are achieved with the press of a button.
The user can attach and send materials via e-mail right from the CustomPitch app.
All the content is cached on the iPad so it can be used anywhere, regardless of a data or WiFi connection.
In addition to CustomPitch's capabilities for sales presentations, there are numerous other applications as well, including trade show demonstrations, field service reference and e-learning programs.
To learn more about Media Dynamic's CustomPitch app, visit: http://www.custompitch.com.
Media Dynamics, one of the leading integrated media development companies in the Midwest for 20+ years, specializes in the design, development and production of mobile apps, interactive multimedia productions, and on-line training and education programs.