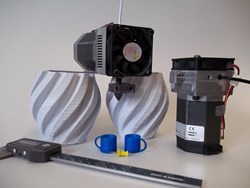 The 3D Super Extruder can print different types and grades of plastic not previously used by the 3D printing community.
Nampa, Idaho (PRWEB) December 12, 2013
A larger and more powerful 3D printer extruder head is in the works at Luminar Products. Their latest venture has been listed on http://www.kickstarter.com to allow others to pledge support and join in this up and coming technology.
The new 3D Super Extruder has tremendous potential in the engineering, manufacturing, food processing and medical applications. From replacement parts for machines like brackets, rollers or guards, to printing splints, boots or braces for patients in a doctor's office. All of these items are possible with 3D printing but you must have the right kind of plastic material for these applications. The 3D Super Extruder can print different types and grades of plastic not previously used by the 3D printing community. This capability can make these kinds of items an actuality.
A problem with current 3D print heads is the limited filament sizes and the lack of variety of plastics that they can use. Most 3D printers are only able to utilize 2 types of filament, PLA and ABS. These two plastics have limited environmental and chemical compatibility. This new project, launched by Luminar Products on http://www.kickstarter.com, addresses this issue by allowing for the use of different types of plastic filaments varying in diameter from 1.75mm diameter to 4.75mm. Each type of plastic has different physical and chemical strengths and environmental capability. The option to use many different types of plastics allows the end user to have much more variety in choosing the type, color, strength, and durability of the plastic for the parts they are making.
In addition to the above qualities, cost of the plastics to the end user is another huge factor spurring Luminar's creation of the 3D Super Extruder. The price of standard extruder filament plastic is anywhere from $30 to $40 per pound. With the 3D Super Extruder's ability to print lower cost plastic welding rod, the price per pound of plastics ranges anywhere from $50 per pound for PVDF (a plastic commonly used in the chemical industry) to $4 per pound for Polypropylene. The wide variety of plastics that the 3D Super Extruder can print makes it more cost effective then other 3D printer extruders.
The durability of the 3D Super Extruder exceeds that of all other extruders on the market today. The Luminar 3D Super Extruder is a very compact design with a mid-mounted, integrated heat sink for better cooling of both filament drive parts and the stepper motor. It has a solid one-piece aluminum body which can be mounted from top, bottom or either side. The copper heater block and nozzle allows for a faster, more stable temperature control.
Along with the development of the 3D Super Extruder, the Luminar team has also discovered several new cold stage surfaces for 3D printing machines. The ability to print without having to have a heated stage area is another advancement for 3D printing offered by Luminar Products, LLC.
For further information please review Luminar Products project at http://kck.st/193y1S0 and consider pledging your support for this project for a better 3D printer extruder.
Or you may visit their web site at http://www.luminarproducts.com