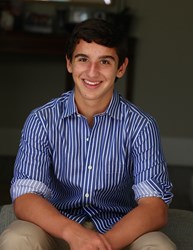 Albany, N.Y. (PRWEB) December 12, 2013
Attending boarding school is a serious commitment, so it's important for students to understand the emotional, financial, and academic challenges that come with it. Peterson's newest and youngest author, Justin Muchnick, explains everything students need to consider in The Boarding School Survival Guide.
What makes The Boarding School Survival Guide unique is that its author, Muchnick, is a boarding school student currently in his second year at Phillips Academy in Andover, Massachusetts. When Muchnick was in 7th grade, he decided he wanted to go to boarding school but didn't know where to start because it was hard to find first-hand stories from students.
"I wrote The Boarding School Survival Guide because it was the exact type of book that I was looking for while researching and considering the boarding school experience," says Muchnick. "I struggled to find 'real' information about boarding schools, outside of what school websites or admission officers provided. I figured if I could help answer questions with a book written by students for students, I could bring helpful insight, advice and answers to those interested in boarding school life."
The Boarding School Survival Guide is written by students for students and includes 25 chapters that help navigate life at boarding school, including essential advice on campus visits, roommates, dorm life, social life, coping with homesickness, finding a mentor and much more. Muchnick notes, "The Boarding School Survival Guide offers a one-of-a-kind peek into the world of boarding schools today." In addition to sharing his own story, Muchnick reached out to hear from boarding school students all over the country to capture as many diverse experiences as possible. He adds, "When I sought submissions from students at over 200 boarding schools across the United States, I was grateful to receive so many chapters from teens eager to share their experiences and words of wisdom for this project. Many told me that they, too, wished there had been a resource like this when they were researching and applying to boarding school."
Even more impressive than Justin Muchnick's age (15) is that this will be his second published book; he co-authored his first book with his mother, Cindy Muchnick. "Working with the team at Peterson's has been an amazing learning experience for me," says Muchnick. "From sending in my book proposal to being welcomed by professionals who are now editing and helping promote my book, I could not be happier to be a part of the Peterson's 'family'."
The Boarding School Survival Guide is just one of Peterson's new titles that expands its product line beyond test prep and continues to solidify Peterson's reputation as an education- and career-focused publisher. The Boarding School Survival Guide will be available for purchase in June of 2014 at Peterson's online bookstore: http://www.petersonsbooks.com. Additional information about the author and his new book can be found by visiting The Boarding School Survival Guide page on Facebook.
About Peterson's
For more than four decades, Petersons.com has been the leading resource for anyone looking to find schools, get accepted, and pay for higher education. More than 5 million prospective students rely on Petersons.com every year, exploring its industry-leading college and university database via a customizable search engine that allows them to easily discover and learn about schools that fit their unique needs. From community colleges to Ivy League universities, associate degree programs in accounting to Ph.D. programs in zoology, Petersons.com offers resources for everyone, no matter where they are in their educational journeys. And with an extensive collection of articles that provide free expert information on topics including preparing successful applications and funding an education, Petersons.com helps students not only find schools but also build the knowledge needed to achieve their educational goals.
About Nelnet Enrollment Solutions
Nelnet Enrollment Solutions provides products and services that keep military and civilian students engaged throughout the pre-college, in-college and post-college experience—offering admissions and academic essay editing services, enrollment marketing, and study material for all levels.