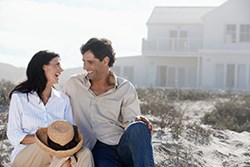 This time of year, the idea of living where salt air replaces salted roads is a vision that resonates with most people who pass through the Southeastern coast.
Wilmington, North Carolina (PRWEB) December 11, 2013
It's a heart-warming scene most Baby Boomers can visualize at the mere mention of the holiday classic Miracle on 34th Street. A wide-eyed little girl opens up the door to her new home one early Christmas morning. Against a backdrop of snow-laced trees, she crosses the threshold into pure belief: Dreams can come true.
Fast forward beyond black-and-white cinema and into 2013. Is it possible, or even sensible, to seek out a new house during the holidays? According to some home market experts in the South, it's not only doable, but comes with gifts of its own.
Kathleen Baylies, an exclusive buyer's agent and owner of Just For Buyers Realty, said as the mercury drops up north, interest in home availability slowly heats up down south. Located in North Carolina, Baylies said real estate prices on the whole tend to hold steady – if not dip – in December, January and February. In large part, this is due to a lull in buyer interest. According to Baylies, the seller's lack of knowing when the next uptick will take place results in more negotiation leverage for those interested in purchasing.
"It obviously depends on what part of the country you're looking to buy a home," Baylies said. "However, in many of the Southern markets where you're generally not competing with uncooperative winter weather, options abound and sellers are extremely anxious."
In October, ABC News affirmed this sentiment, reporting in an article that many sellers who put homes on the market during the holidays likely do so not by choice, but by circumstance. This makes them much more motivated to reach a deal.
"It could be a new job in another city, family obligations – it's generally something that requires a quick move on the seller's part," Baylies said. "Pair that with less buyers looking, and it makes for a good win for those who discover these properties."
With many people heading below the Mason Dixon Line for a warm holiday vacation, Baylies said it's not uncommon to see piqued interest in the region's housing market between now and February.
"This time of year, the idea of living where salt air replaces salted roads is a vision that resonates with most people who pass through the Southeastern coast," Baylies said. "For those who fall in love and don't want to go back, it just kind of clicks."