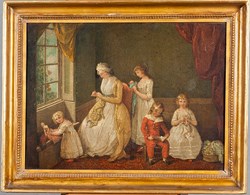 Washington, DC (PRWEB) December 11, 2013
The Washington Winter Show, a charity antiques show, is pleased to announce the theme for the 2014 show "Southern Celebrations: Traditions Handed Down." Stratford Hall, home of the Lees in Virginia, has created a loan exhibit that will provide a glimpse of customs that are evocative of life in the 1800's including items related to entertaining, style and family life.
The show will feature a Friday luncheon lecture "Exploring the Charleston Kitchen" about the evolution of Southern cuisine by James-Beard award-winning chefs and brothers, Matt and Ted Lee. Julia Reed, a contributing editor to Garden & Gun magazine, will headline the show's Saturday lecture event named after one of her many books on Southern hospitality, ""Ham Biscuits, Hostess Gowns, and Other Southern Specialties." Garden & Gun also serves as the Washington Winter Show's Media Sponsor. The Honorary Diplomatic Chair for the show will be His Excellency Manuel Sager, Ambassador of Switzerland. The Presenting Sponsor of the Show is PNC Financial Services.
"I am delighted to serve as Show Manager of this year's Washington Winter Show," said Karen DiSaia. "This program celebrates the South at its best, a culture rich in celebratory traditions that have transcended generations."
The three charities that will benefit from the show are Bishop Walker School, a not-for-profit, tuition-free school for boys from low-income families in Southeast D.C., The Founders Board of St. John's Community Services, which provides support to children with intellectual and developmental disabilities between the ages of 3 and 22 and THEARC Theater, a cornerstone of the Town Hall Education Arts & Recreation (THEARC) Campus facility, enabling children and their families to both attend and perform in cultural events for free or at discounted rates.
Forty-five premier dealers from the United States and Europe will offer a wide range of period furnishings and decorative arts, vintage jewelry, porcelains, ceramics, silver, and architectural garden accents during the Show. This year's show will once again be held at American University's Katzen Arts Center in Washington, DC from January 9th to January 12th.
As in past years, the Show will feature a number of events during the show's duration: the Preview Night Party on the evening of Thursday, January 9th; a luncheon lecture on Friday, January 10th and an afternoon lecture on Saturday, January 11th; and an Appraisals and Jazz Night on Saturday, January 11. A new event this year will be a Bourbon Tasting at the Jazz Night event.
"Washington, DC is actually below the Mason-Dixon line and thus geographically is considered a Southern city," said Puffin Travers, one of the show's three co-chairs. "For this reason, we thought a show celebrating the traditions of the South would be an ideal theme that would generate a lot of interest and support for the Show and the charities it benefits."
The show hours are Friday and Saturday from 11:00 a.m. to 8:00 p.m. and Sunday from 11:00 a.m. to 5:00 p.m. Tickets to the show as well as the special events are available online beginning in November. General admission tickets will be $20.00 per person and can be used throughout the weekend. The Katzen Arts Center is located on American University's main campus at 4400 Massachusetts Avenue, NW, Washington, D.C. Ample free parking is available throughout the Show in the parking garage below the building.
The Washington Winter Show was founded in December 2009 by the former Trustees of the Washington Antiques Show to raise funds for local charities that serve the needs of children and families in the Washington, DC metropolitan area by sponsoring an annual antiques and fine arts show. More information about the show can be found at http://washingtonwintershow.com.