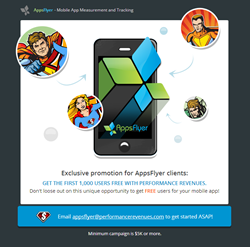 we actually want to reach out for those developers that don't know which advertising channel to begin with. Those installs are free but also optimized in a granular manner
(PRWEB) December 18, 2013
Performance Revenues offers a special promotion for Appsflyer mobile app advertising clients .
Offering their clients a 1000 users free in user acquisition with the highest user value delivered to dozens of mobile app developers worldwide.
Performance Revenues is an affiliate network specializing in delivering installs to mobile apps especially in the Gaming, Forex, Gambling and Utilities categories.
The company has a publisher base of over 3000 publishers delivering traffic which converts to highly valued users to the app developers.
"In this special promotion, we actually want to reach out to those developers that want to have more users on their app and don't know which advertising channel to begin with. The first 1000 users are free, but those installs are also optimized in a granular manner, to ensure the highest quality for the developers." says Ron Brightman, CEO of Performance Revenues.
Oded Frommer, Cofounder of Performance Revenues adds:"1000 users is really a tiny bit of what we give the big advertisers we are working with. Last month we passed the 2M installation benchmark and we keep growing faster than ever, we want to invite other developers to join our success"