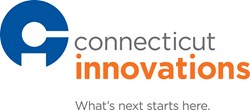 "Our new brand identity reflects who we are today," said Amy Hourigan, vice president of marketing and communications for Connecticut Innovations.
Rocky Hill, CT (PRWEB) December 11, 2013
Connecticut Innovations (CI) today announced the launch of its new brand identity, which more closely aligns with the dynamic work it is doing with pioneering Connecticut companies and better captures the breadth of services available to entrepreneurs and business owners in the state. As part of the brand refresh, the state's quasi-public authority responsible for growing Connecticut businesses through innovative financing and strategic assistance created a new corporate logo, an evolved message platform and an interactive website complete with educational resources.
The updated message platform and logo were designed to reflect CI's merger with the Connecticut Development Authority (CDA) in 2012, and the addition of the Small Business Innovation (SBI) group in 2009. The new website highlights the services offered by the three entities under the CI umbrella as well as CI's new mission to help Connecticut businesses thrive no matter what stage of the business life cycle they're in.
"Our new brand identity reflects who we are today," said Amy Hourigan, vice president of marketing and communications for Connecticut Innovations. "CI has always been an innovative and dynamic organization that inspires confidence in companies that want to do business with us, but beyond the venture community, we suffered from a lack of awareness. Over a year in the making, our new creative assets tell our story in what I hope is an engaging, inspiring way that better reflects the broader scope of what we do, which now includes lending and support for small business innovation."
The previous logo and brand guidelines served the company for more than a decade. During that period, CI helped more than 100 emerging companies research, develop, and market new products and services, attracting more than $1 billion in additional investments from private equity providers in the process. With the support of Governor Malloy's 2011 Jobs Bill, CI has had an even greater impact on the small business economy. Over the past two years, CI has:

Doubled investments in early-stage companies, including $10.8 million in pre-seed and seed opportunities, enabling the state to bring more high-tech innovations to the global stage.
More than doubled the number of new companies it supports – the early-stage portfolio now includes 91 companies.
Quadrupled the number of angels making investments through the Angel Investor Tax Credit Program and increased dollars they invested by more than 2.5 times.
Provided 85 internships for Connecticut students resulting in 17 permanent jobs and counting.
Significantly increased efforts to help small businesses accelerate their growth through innovative new programs and small grants. An investment of $1.1 million through the Connecticut SBIR Acceleration and Commercialization Program leveraged $9 million in federal R&D grants. A $590k investment through CI's Small Business Innovation and Diversification Program leveraged an additional $3.4 million.
Invested in the entrepreneurial ecosystem (CTNext), which helps entrepreneurs start and grow businesses even if they're outside of CI's portfolio.
"Connecticut Innovations operates in sophisticated, highly-technical industries and should embody an image that reflects that we belong here," said Claire Leonardi, CEO of Connecticut Innovations. "Our new look identifies closely with the investment and lending communities and was designed to appeal to our innovative portfolio companies and prospects as well."
To explore the new CI website, visit http://www.ctinnovations.com.
About Connecticut Innovations Inc.
Connecticut Innovations (CI) is the leading source of financing and ongoing support for Connecticut's innovative, growing companies. To maximize the growth potential of each business, CI tailors its solutions and often combines its funds with resources from other financial leaders to provide venture capital and strategic support for early-stage technology companies; flexible loans for established companies with new innovations; grants that support innovation and collaboration; and connections to its well-established network of partners and professionals. Through all these initiatives, CI has helped bring $4 billion in financing to Connecticut companies. The state's most active early-stage investor, CI has created more than 26,000 jobs. For more information on CI, please visit http://www.ctinnovations.com.