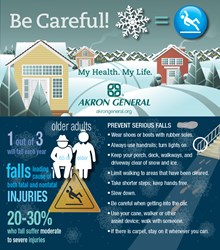 One out of three older adults fall each year but less than half talk to their health care providers about it.
(PRWEB) December 10, 2013
Much of the United States is experiencing a first real blast of frigid winter weather. The cold and associated ice and snow pose a real threat of falls, especially in the elderly.
According to the Centers for Disease Control:

One out of three older adults (those aged 65 or older) fall each year but less than half talk to their health care providers about it.
Among older adults, falls are the leading cause of both fatal and nonfatal injuries.
Twenty to thirty percent of people who fall suffer moderate to severe injuries such as lacerations, hip fractures, or head traumas.
In addition, the Ohio Trauma Registry still lists falls as the leading cause of trauma in the geriatric population, exceeding motor vehicle accidents.
Dr. Cunningham advocates taking these steps to help prevent serious falls when wintry weather occurs:

Wear shoes or boots with rubber soles for more solid footing.
Always use handrails when going up or down steps; turn lights on.
Keep your porch, deck, walkways, and driveway clear of snow and ice.
Try to limit walking to areas that have been cleared off.
Take shorter steps to maintain your center of balance; keep hands free, arms help maintain balance.
Slow down, take your time.
Be careful when getting into the car.
Use your cane, walker or other assist device; walk with someone.
When out in public look carefully at the floor surfaces; if there is carpet, stay on it whenever you can.
Maintain an exercise program when inside the house.
Falls can still happen despite every effort at prevention. To aid in the case of a fall, always keep a cell phone with you – even if you are just walking to the mailbox – so 911 can be called immediately. This is especially important for independent elderly people who live alone. Also consider an electronic medical alert device/system; this is a great gift for a loved one.
Taking these simple steps can go a long way in preventing a fall and serious injury.
A print version of the infographic supplied is available at http://www.akrongeneral.org/web09/pdfs/PR/InfoGraphic_winterSafety_AG_1213.pdf.
About Akron General Health System
Akron General Health System is a not-for-profit health care organization with the mission of improving the health and lives of the people and communities it serves. Akron General Health System includes: Akron General Medical Center, a 511-bed teaching and research medical center, and Edwin Shaw Rehabilitation Institute, the area's largest provider of rehabilitation services; Akron General Partners, which includes Partners Physician Group, the Akron General Health & Wellness Centers, Lodi Community Hospital, Community Health Centers and other companies; Akron General Community Health Ventures, which includes Visiting Nurse Service and Affiliates; and Akron General Foundation. Recently, U.S. News & World Report ranked Akron General Medical Center as the fifth best hospital in Ohio. In 2013, the American Nurses Association bestowed the prestigious "Magnet" status on the more that 1,000 nurses from Akron General Medical Center, Edwin Shaw Rehabilitation Institute and the Health System's Health & Wellness Centers. For more information about Akron General Health System, visit http://www.akrongeneral.org.
###
Editor's Note:
Carol Cunningham, MD, is available to provide interviews on this topic. Dr. Cunningham is a board certified emergency medicine physician at Akron General Health System. She is also the State Medical Director for the Ohio Department of Public Safety, Division of EMS; EMS Medical Director Representative on the National EMS Advisory Council; and an assistant professor of emergency medicine at Northeast Ohio Medical University. Dr. Cunningham is a fellow in the American Academy of Emergency Medicine and the American College of Emergency Physicians.