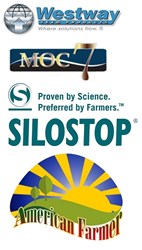 Jupiter, FL (PRWEB) December 24, 2013
DMG Productions proudly announces an upcoming episode of American Farmer, which will air on Tuesday, December 31, 2013 at 8:30 a.m. EST on RFD-TV.
In this episode, American Farmer follows Westway Feed, a global supplier of agricultural-based liquid solutions that is committed to providing the agricultural industry with world class service and the best available molasses-based products.
American Farmer will also explore - Bruno Rimini Corp., makers of Silostop® total oxygen barrier film™. Audiences will learn about Silostop's total oxygen barrier film; a thin and clingy plastic used underneath traditional polyethylene plastic to help preserve bunker or piled silage. Viewers will be amazed as American Farmer explores how Silostop's barrier resin stops oxygen more than a regular plastic bunker cover made of polyethylene.
In addition, the show will feature Ag Odor Control, located in the southeastern tip of Lee County, Iowa. American Farmer will educate on the development of their new treatment for hog confinements that not only helps improve the environment, but also improves fertilizer value of the manure.
"We are so excited to be able to bring this information to our viewers," said Charlie Cowan, producer for the series. "Agriculture is such a vital part of society, and it is empowering to be able to help provide the American Farmer audience with information like this every week."
About American Farmer:
American Farmer is a breakthrough program on a mission to showcase the latest advancements in agriculture and farming. From seed to harvest, livestock and more, our producers have traveled the country covering the people, places and issues impacting all areas of farm country.
American Farmer airs Tuesdays at 8:30am EST on RFD-TV as well as Saturdays at 1:30pm and Midnight EST on RURAL-TV.
For more information visit: http://www.americanfarmertv.com or call (866) 496-4065.
Media Contact:
Charlie Cowan, Producer / American Farmer
(866) 496-4065 x 875 / charlie(at)americanfarmertv(dot)com