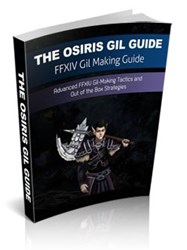 (PRWEB) December 10, 2013
OsirisMethod.com has just published a brand new Leatherworker leveling guide for Final Fantasy XIV, the popular MMORPG. The guide can be found in full at http://www.osirismethod.com/ffxiv-leatherworker-leveling-guide/.
The new guide covers all aspects of leveling up a Leatherworker in FFXIV, from leveling tips to repeatable leve locations. Repeatable leves tend to be the best way to earn experience points as a crafter in Final Fantasy XIV, so the new guide emphasizes these quests. The guide also discusses leveling options for those who want to conserve their limited leve allowances.
In the virtual world of FFXIV, crafting is an essential skill that players can use to make a variety of items that benefit their characters. Unlike in other games, professions in FFXIV take on a life of their own as players are able to level these professions up as if they were a class like Warrior or White Mage. Professions even get their own gear sets and quest lines that make crafting a full-fledged class rather than just a side job.
Leatherworker is particularly valuable to players as it produces the Gryphonskin Ring, a popular ring among Discipline of War classes. This ring provides players with a large amount of stat points. The real reason the ring excels is because it can be bound with materia, an option not available to typical dungeon drops. With materia, this ring can pick up a large number of stats that makes it particularly valuable to players.
While it is no secret that Leatherworker is a profitable profession for players, it has the drawback of being very expensive to level up. The raw materials needed to level up Leatherworker can cost hundreds of thousands of gil, a price tag out of range of many players. The new guide at OsirisMethod.com is specifically designed to tackle this problem as it covers not only the best way to level up Leatherworker, but also the cheapest way. The tips outlined in the new guide can help players significantly cut the cost of leveling up their Leatherworker in FFXIV.
About OsirisMethod.com
OsirisMethod.com is a leading publisher of PC game strategies, specializing in Final Fantasy XIV, Starcraft 2, and Diablo 3. New strategies and news articles for these games can be found published regularly to the blog at http://www.osirismethod.com/blog/.
OsirisMethod.com is also home to the popular Osiris Gil Guide, a guide dedicated to teaching FFXIV players how to make millions of gil in-game. This guide provides players with not only traditional money-making methods like farming locations, but also covers advanced crafting and gil-making strategies that can be used to generate more profits than traditional methods. The Osiris Gil Guide is available at http://www.osirismethod.com/ffxiv-gil-guide/.