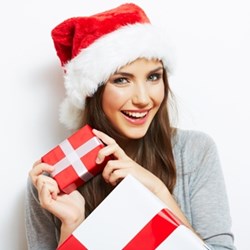 With the help of Lightning Labels, businesses of all kinds can use custom labels and stickers to create a memorable brand impression that will stick with consumers well after the holidays are over.
Denver, CO (PRWEB) December 11, 2013
Lightning Labels, leader in printing custom labels and stickers, is helping retailers make the most of holiday labels and prepare effectively for the shopping season. Labeling and packaging go beyond product appearance; these elements can also be important marketing resources.
"With customers looking to find the ideal items for friends and family, the holiday season is the perfect time to maximize promotional efforts," said AnneMarie Campbell, Business Development Manager at Lightning Labels. "With the help of Lightning Labels, businesses of all kinds can use custom labels and stickers to create a memorable brand impression that will stick with consumers well after the holidays are over."
Holiday stickers and other festive options, such as chrome BOPP labels and gold labels, are a smart way to maximize marketing potential during the winter months. Crafters, major retailers and everything in between can market their products this season by incorporating winter themes and colors into their packaging. Slight changes to product labels during the holidays communicate to shoppers that there is something seasonal and exciting about the items. Lightning Labels prints labels that can stand out on the shelves, even in the middle of a busy holiday shopping season. In addition to high-definition graphics with holiday themes, there are other elements to consider when using labels for holiday marketing.
Effectively Marketing with Holiday Labels:
Marketing with holiday labels helps businesses expand their reach during the busiest shopping season of the year. Retailers can appeal to consumers by providing gift-ready packaging as part of a holiday marketing campaign. For instance, manufacturers can design a label beautiful enough to serve as gift wrapping itself. With the addition of festive labels, products are ready to be gifted as soon as they arrive on doorsteps. Providing seasonally appropriate packaging makes buying presents easier for stressed out holiday shoppers. A good shopping experience encourages brand loyalty, and consumers will return to these businesses year after year. Consumers tend to return to retailers that help them save time, so creating labels that make products gift-ready will benefit retailers in the long run. With Lightning Labels' time-tested printing technology, the results are sure to be eye-catching.
Holiday Stickers Can Promote Multichannel Marketing Efforts:
Businesses can use custom holiday stickers to disseminate a variety of information, including links to websites and social media platforms. A thoughtfully designed label can communicate volumes in just a small amount of space. This is particularly true if the label is utilized as a small showcase for online platforms. A personalized QR code can direct customers to an individualized online landing page. Incorporating social media icons on holiday stickers also helps direct users to a company's web presence. Since a brand's website is often a sales hub, directing consumers back to online channels via product labels can increase sales during the holiday season and even after it's over.
From December 11, 2013 through December 23, 2013, Lightning Labels will offer 15 percent off label orders, using promo code HOLIDAY13 at checkout. During this Holiday Savings Event, all those who place an order will be automatically entered to win a $500 gift card. Maximum discount is $1,000. Free ground shipping is valid through 12/31/13 and applies to orders shipped only within the U.S. and Canada. This offer cannot be combined with any other offers or promotion. Visit Lightning Labels for more information or updated promotions.
About Lightning Labels:
Lightning Labels uses state-of-the-art printing technology to provide affordable, full-color custom labels and custom stickers of all shapes and sizes, and now offers a full line of custom packaging products. From small orders for individuals, to the bulk needs of big businesses, Lightning Labels is equipped to handle and fulfill sticker, label and product packaging projects of all types. Best of all, like the name implies, Lightning Labels provides a quick turnaround to every customers' labeling and product packaging needs. Uses for Lightning Labels' custom product labels and custom stickers include food packaging and organic food labels, wine and beverage labels, bath and body labels, and nutraceutical products, such as vitamins, essentials oils, and herbal remedies, as well as event stickers, adhesive window stickers and more. Lightning Labels strongly supports the development of environmentally friendly printing materials and carries EarthFirst PLA, a new kind of green label material made from corn instead of petroleum. While operating as a high-tech printer, Lighting Labels prides itself on its personalized customer service. Lightning Labels provides one stop shopping for all of your label and product packaging needs. For more information and to place orders online, visit LightningLabels.com. For the latest in packaging news and labeling promotional offers, find Lightning Labels on Pinterest, Twitter (@LightningLabels), Facebook, Google + and LinkedIn.