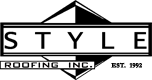 Through December, January, and February, Style Roofing will be offering a free upgrade from standard to premium performance shingles...
Fairfax, VA (PRWEB) December 11, 2013
Style Roofing, Northern Virginia's top-rated roofing company, is pleased to announce its Winter Roofing Special. Through the months of December, January, and February, Style will be offering a free upgrade from standard to premium performance shingles on whole roof replacements.
Of course, every re-roof that Style Roofing performs comes with a 10-year workmanship warranty, in addition to the manufacturer's warranties on all materials.
What constitutes a standard shingle? Style Roofing uses CertainTeed XT-25, a traditional 3-tab shingle from one of the best manufacturers available. These shingles have been trusted for decades across the country.
The premium shingle upgrade is to the CertainTeed Landmark, not to be confused with the Landmark Pro, Landmark TL, Landmark Special or Landmark Solaris -- those are shingles for specialty applications -- CertainTeed Landmark is a premium architectural shingle to give your home that luxurious look.
But Landmark architectural shingles don't just lend a more dramatic look to your home, they also offer substantial performance advantages. CertainTeed Landmark shingles are made of laminated layers of fiberglass and asphalt which makes them stiffer, resisting high winds and impact damage better. The thick material also means they last longer: Landmark comes with a lifetime limited transferable warranty against manufacturing defects.
Nick Perkins, Style Roofing General Manager, explains why the upgrade is so attractive. "The Landmark shingles are a higher-end look. That makes people happier about getting a new roof. It also helps if they're planning on selling. A buyer can't tell the difference between 20 year and 25 year three-tab shingles, but architectural shingles standout. And, of course, they last. They really do last."
The discount will be given during the comprehensive estimate that Style Roofing offers, but clients must book roofing jobs during the winter months of December, January, and February to qualify.
About Style Roofing
Style Roofing is a family-owned roofing company founded in 1992. With 20 years of experience and over 5,000 happy customers, Style Roofing maintains their commitment to service and excellence by using only the best products and the most skilled tradesmen. For more information, visit them at http://www.StyleRoofing.com.