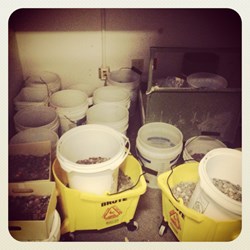 'We could not have done 'Give More, Change More' without Coinstar,' said Todd Anderton, regional marketing director for Acadiana Mall.
Lafayette, LA (PRWEB) December 11, 2013
Acadiana Mall announced today that is donating over $5,500 to local charities through its new "Give More, Change More" campaign.
The campaign was designed to help give away all the loose change that was collected in the mall's old coin fountain over the past several years. The fountain was dismantled and removed this past spring as part of the property's multi-million dollar renovation.
"After we removed the fountain, we realized we had a big challenge on our hands," said Bryan Leblanc, mall general manager. "We had to figure out something to do with all of these coins!"
It was decided by mall management that the money should be given to charity. However, LeBlanc estimated that nearly 150 gallons of coins had been collected over the past several years. The problem was going to be counting each and every coin.
"You can't just walk into a bank with this many coins and get it all counted for you," Leblanc said. "We knew we were going to need some help to get our arms around this project."
The help came with a call to Coinstar, the company that owns and operates approximately 20,800 coin-counting kiosks in grocery and other retailers throughout the U.S., Canada, Puerto Rico, Ireland and the United Kingdom. After hearing about the mall's coin-counting conundrum, Coinstar came to the rescue and agreed to process the coins free of charge.
"We could not have done 'Give More, Change More' without Coinstar," said Todd Anderton, regional marketing director for Acadiana Mall. "Not only did we have a huge volume of coins, but the coins required special handling and processing due to all of their time in the water. Coinstar was able to handle the entire process for us."
"Our customers tell us all the time how pleasantly surprised they are by the amount their loose change ends up totaling when they use our kiosks," said Mike Skinner, president of Coinstar.
"We are delighted to help the Acadiana Mall transform loose change from the fountain into worthy causes in the local region." Coinstar arranged to have all the coins picked up at the mall in early November, and last week the company was able to confirm the final value of all that loose change: $5,553.90.
As a result, the mall has elected to give away three awards of $1,850 each to three worthy non-profits in the Lafayette community. A nomination process has now begun for shoppers to nominate their favorite charities. Nomination forms and rules are now available at http://www.Acadiana-Mall.com, on the mall's Facebook page at facebook.com/AcadianaMall and at the mall's customer service center.
"We encourage people to nominate their favorite hometown charities here in Lafayette," Anderton said. "Acadiana Mall is delighted to be able to give this money to causes our shoppers find most important."
Nominations will be accepted through December 31. Winners will be announced in early January and honored at a media event at the mall sponsored in part by Cumulus media.
About Acadiana Mall
Acadiana Mall is owned and managed by CBL & Associates Properties, Inc. of Chattanooga, Tennessee, (NYSE:CBL) and features more than 100 great shops including Chico's, Talbot's, Coldwater Creek, Banana Republic, Hollister, and many more. Anchored by Dillard's, Macy's, Sears and JCPenney, the mall is situated at the intersection of Johnston Street and Ambassador Caffrey Parkway, approximately five miles south of Interstate 10. Originally built in 1979, the mall was last renovated in 2004 and is currently undergoing a renovation to be completed in late 2013. More information can be found at Acadiana-Mall.com.
About Coinstar
Coinstar, part of the Outerwall Inc. (Nasdaq: OUTR) family, is a leader in money services. It owns and operates the only multi-national, fully automated network of self-service coin-counting kiosks. The company has approximately 20,800 coin-counting locations in the United States, Canada, Puerto Rico, Ireland and the United Kingdom. Coinstar kiosks process more than $3 billion in coins annually. Coinstar makes it simple to convert coins to cash or consumers can receive no-fee coin-counting when choosing a gift card or eCertificate. In addition, select Coinstar kiosks offer PayPal functionality, enabling consumers to conveniently and securely add coins and paper currency into their PayPal account, as well as send money to another PayPal account. For more information on Coinstar please visit http://www.coinstar.com and for information on Outerwall Inc., please visit http://www.outerwall.com .