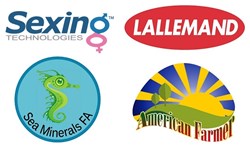 Jupiter, FL (PRWEB) December 31, 2013
DMG Productions proudly announces an upcoming episode of American Farmer, which will air on Tuesday, January 7, 2014 at 8:30 a.m. EST on RFD-TV.
In this episode, American Farmer follows Lallemand Animal Nutrition, a company dedicated to the development, production, and marketing of profitable, natural and differentiated solutions for animal nutrition and health. The show will explore Lallemand Animal Nutrition's full-range of natural yeast and bacteria products in order to improve animal health and performance.
American Farmer will also explore the Sexing Technologies. Viewers will be taken behind the scenes of semen sexing and embryo production, and will be shown how Sexing Technologies' multilingual abilities and successful port-to-port shipments make them a truly reliable source for marketing to cattlemen worldwide.
In addition, the show will feature Sea Minerals FA, Sea Minerals produces major improvements in plant growth and improves the nutrient value of hay and grains grown on it. Audiences will be amazed by Sea Minerals' ability to enrich soils and produce hay and pasture that is strongly preferred by all types of livestock. In addition, viewers will learn about how animals grown with the advantage of access to Sea Minerals FA in their food mature earlier, are healthier, and noticeably heavier.
"We are so excited to be able to educate our audience on the new and improved technologies helping to create a more sustainable agricultural future," said Charlie Cowan, producer for the series.
About American Farmer:
American Farmer is a breakthrough program on a mission to showcase the latest advancements in agriculture and farming. From seed to harvest, livestock and more, our producers have traveled the country covering the people, places and issues impacting all areas of farm country.
American Farmer airs Tuesdays at 8:30am ET on RFD-TV as well as Tuesdays at 12:30pm and Saturdays at 1:30pm ET on FamilyNet.
For more information, visit: http://www.americanfarmertv.com or call (866) 496-4065.
Media Contact:
Charlie Cowan, Producer / American Farmer
(866) 496-4065 x 875 / charlie(at)americanfarmertv(dot)com