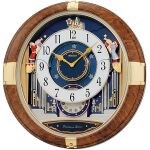 The clocks carrying the Seiko brand reflect the vision created by the company's original founder- the pursuit of perfection.
Tampa Bay, FL (PRWEB) December 11, 2013
BillyTheTree, a jewelry retailer based in Tampa Bay, Florida, recently announced that it now carries the full line of Seiko clocks. The retailer is proud to carry Seiko's products in its diverse catalogue of unique items, representing the brand that has been one of the most innovative and ground-breaking clock and watch companies since its establishment in 1881.
Coinciding with BillyTheTree's commitment to finding and selling beautiful, unique, high-quality jewelry at a reasonable price, it has recently extended its inventory of Seiko products to include a variety of clocks ranging in style and purpose. The clocks carrying the Seiko brand reflect the vision created by the company's original founder- the pursuit of perfection. Therefore, it comes to no surprise that the online jewelry retailer would jump at the opportunity to carry a wider range of the products manufactured by the brand, and just in time for finishing off the last bout of Christmas shopping.
BillyTheTree offers over 140 Seiko clocks, which it categorizes into seven different types: alarm clocks, desk and table clocks, mantle clocks, musical clocks, pendulum clocks, travel clocks, and wall clocks. The clocks are currently being sold on BillyTheTree's online store at a price range starting at $24.95, up to $487.50. Furthermore, the jewelry retailer offers a Best Price Guarantee that promises to beat or match any advertised price of any authorized dealer of Seiko clocks and or Seiko watches, reassuring consumers that they are getting the best deals on the market through BillyTheTree.
The online retailer is an authorized dealer of Seiko clocks and Seiko watches, which ensures the authenticity of each Seiko clock, and guarantees that any clock purchased will be fully backed by the manufacturer's warranty in the rare case in which it may need servicing. The Seiko manufacturer's warranty is only offered on purchases made from authorized dealers of the brand.
BillyTheTree offers consumers the perfect products for keeping track of time, and does not spare refinement or style in its delivery. It's not too late to buy a little time. For more information on BillyTheTree's stock of Seiko clocks, go to http://www.billythetree.com/seiko-clocks.aspx.
About BillyTheTree.com
Founded in 2004 by Robin Weber when he was still a senior in high school, BillyTheTree.com offers a large variety of affordable, yet high quality jewelry, watches and sunglasses. The company carries several product lines, which include over 20,000 items, consisting of magnetic jewelry, gold jewelry, diamond jewelry, gemstone jewelry, sterling silver jewelry, jade jewelry, high performance sport sunglasses, and more. For more information, or to place an order, please visit BillytheTree.com.