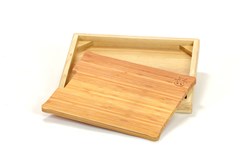 Vista, CA (PRWEB) December 10, 2013
A reversible bamboo cutting board that drains and contains excess liquid during chopping, slicing and dicing, Bodoki™ is an elegantly simple, yet innovative kitchen device that eliminates cross-contamination of meats and vegetables. With a basin coated by a food-grade sealant, Bodoki™ not only catches drips and spills, but also retains desirable juices that would otherwise go to waste on conventional cutting boards.
In production thanks to immediate funding commitments from a Kickstarter campaign that launched yesterday, Bodoki™ continues to offer an "early bird special" through the crowd-funding site, where new pledges are rewarded with the cutting board and more—at roughly half the planned retail price.
Designed and developed by a group of friends living in Vista, Calif. near San Diego, the introduction of Bodoki™ has addressed a common problem and filled an unmet need.
"Conventional boards are not terribly functional beyond serving as a basic cutting surface," said Anna Pacheco, the CFO, or Chief Foodie Officer, of Bodoki™. "Cutting a watermelon or pineapple usually leaves a sticky mess that leaks onto kitchen counters and floors. After chopping meats the board almost needs to be sterilized before you cut veggies. We wanted to create a more useful tool."
The 12- and one-half-inch by 10- and one-half-inch Bodoki™ surface sits atop a contained rectangular basin. Beveled edges on both the surface and basin enable liquids to easily drain. For a completely clean surface, a home cook merely has to flip the cutting board; to keep food categories straight and safe, one side is branded with a carrot and the other with a smiling cow.
Bodoki™ is a sister product of the PerfectChop™ Stay-Clean™ Cutting Board, which was introduced in early 2013. The PerfectChop's Stay-Clean™ micro-texture coating also guides water and other liquids off the board and into a basin, enabling cooks to save juices for homemade gravy and sauces. Made of a high-density material, the PerfectChop™ also will not dull knives, harbor bacteria or absorb odors. The Bodoki™ is an ideal all-wood complement to the PerfectChop™.
A Neglected-But-Invaluable Item
At-home cooks largely overlook the failings of conventional cutting boards. In an early 2013 article in The New York Times, renowned Chef Richard Blais said, "As kitchen tools, they are invaluable and often neglected, because many people spend money on showcase items like knives instead."
Pacheco and her friends were determined to build a showcase tool that redefined cutting board functionality, but was also made of environmentally friendly materials. "That's why we ended up choosing bamboo for the cutting board and rubber wood for the base," she said. "The contrasting materials go together beautifully, but are also renewable and sustainable, green by every definition."
While the cost of using bamboo is higher than many conventional cutting board woods, the Bodoki™ team plans to use its additional funding to buy the material in bulk. With the design elements, specifications and tooling in place at their Chinese factory, the novel cutting boards are already in production.
For Kickstarter pledges of $39 or more, a limited number of contributors (the first 150) will receive a Bodoki™ cutting board. For $49 or more, up to 150 pledgers will receive the Bodoki™ and a copy of the "Art of the Knife," a book that includes photo tutorials on the best techniques for chopping, slicing and dicing, as well are more than 200 recipes. Once the limited number of boards is taken, pledges of more than $55 get the Bodoki™; $65 earns it and the book.
Anticipated to be on the market in spring 2014, the Bodoki™ is expected to retail for approximately $70.
For more information on the Bodoki™, please visit http://www.Bodoki.com.