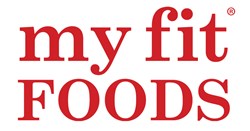 Austin, Texas (PRWEB) December 11, 2013
My Fit Foods, a nationwide food chain offering consumers healthful pre-portioned meals, continues its expansion in Austin with a new retail location. The new My Fit Foods store, located at 5808 Burnet Rd., Austin, TX 78756, will offer fresh healthy pre-portioned meals and snacks for the taking. The opening marks the 80th store location for My Fit Foods nationwide and its 13th Austin area location.
My Fit Foods was founded in 2006 out of the apartment kitchen of founder Mario Mendias, a former Marine and Houston personal trainer who was dedicated to ensuring his client's achieved the results he promised. Mario started cooking meals for his clients who were too busy to shop. Shortly after eating the portion controlled healthy meals, his client's fitness results began to speak for themselves! Soon Mario was not only cooking for his clients, but all the clients in the gym.
"Clients working their tails off in the gym and not achieving the results they should, is every personal trainer's nightmare," said Mario Mendias, Founder and CEO of My Fit Foods. "As a personal trainer, I knew that my client's nutrition is what drove 80% of their results in regards to their health and fitness goals."
In 2007, Mario outgrew his apartment kitchen and created the first My Fit Foods retail store aimed at expanding the mission to provide fresh, healthy foods to go that taste great at an affordable price. The menu evolved with additional meals and snacks all focused on lean protein, low glycemic carbohydrates and heart healthy fats.
My Fit Foods was founded in the spirit of service, and continues that spirit today through kitchens, stores, schools and communities. Whether in need of a quick meal or snack on the go or want take advantage of the convenience and results of our 21 Day Challenge, My Fit Foods is here to make healthy living a reality.
About My Fit Foods
Founded in Houston, Texas, My Fit Foods is an expanding retail concept dedicated to making eating healthy, tasty, convenient, and affordable with their balanced, pre-portioned meals and snacks. With over 60 meals to choose from, including breakfast, lunch, dinner and snacks items, My Fit Foods is committed to making eating healthy easy. My Fit Foods has over 75 locations nationwide. For more information please visit http://www.myfitfoods.com.