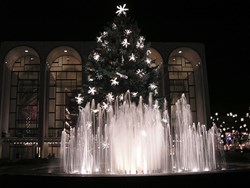 New York, New York (PRWEB) December 11, 2013
The holiday season is one of the most fantastic times of the year to visit New York City. With its sparkling lights, towering Christmas trees and abundance of ice skating rinks, the Big Apple shines brightly during the early months of winter. It's among these reasons and more the city has been chosen as a backdrop for many well-known holiday movies. Join On Location Tours on a jolly joyride as they review the best holiday movie moments filmed in NYC.
1. The Plaza Hotel (768 5th Ave) - In "Home Alone 2: Lost in New York," Kevin (Macaulay Culkin) stays at The Plaza Hotel during his trip to New York City. Upon entering the hotel, Donald Trump makes a cameo appearance when Kevin asks him where the lobby is.
2. Atlantic Grill (49 W 64th St) – In the 1988 comedy "Scrooged" starring Bill Murray, Murray's character Frank rushes out of the Atlantic Grill and hops into a taxi cab only to discover his driver is the Ghost of Christmas Past. However, the restaurant is labeled as the A&M Club in "Scrooged."
3. Macy's (151 W 34th St) – The Macy's department store in Herald Square had a starring role in the Christmas classic, "Miracle on 34th Street," which is where the real Kris Kringle fulfilled his role as the in-store Santa Claus.
4. Serendipity 3 (225 E 60th St) – In the romantic holiday flick "Serendipity," Jonathan (John Cusack) and Sara (Kate Beckinsale) enjoy a famous Frrrozen Hot Chocolate together at the cozy and eclectic restaurant Serendipity 3.
5. Rockefeller Center (601 5th Ave) – One of the cutest holiday movie moments takes place at The Rink at Rockefeller Center. In the fan-favorite Christmas comedy "Elf," Jovie (Zooey Deschanel) wows Buddy the Elf (Will Ferrell) by taking him to see the impressive Rockefeller Center Christmas Tree. Jovie and Buddy share their first kiss while ice skating around The Rink.
To reminisce on these holiday movie moments and many more, hop on the Holiday Lights & Movie Sites Tour. This guided bus tour takes passengers around New York City to see spectacular holiday lights and movie sites as well as magnificent holiday window displays.
About On Location Tours
On Location Tours, the 2013 Concierge Choice Award Winner for Sightseeing and Tours, is among the world's largest TV and movie tour companies with tours in New York City and Boston. The tours feature sites from the hottest and latest on the big and small screen. Founded in 1999, it is one of the East Coast's most popular tourist attractions. Tours include New York TV & Movie Sites, Sex and the City Hotspots, Gossip Girl Sites, Sopranos Sites, TCM Classic Film Tour, TMZ Tour NYC, Central Park TV & Movie Sites, Holiday Lights & Movie Sites, and Boston TV & Movie Sites.