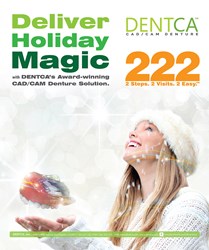 DENTCA's system has been a tremendous asset to our vision of providing not just convenient dentures, but quality dentures.
Los Angeles, CA (PRWEB) December 10, 2013
DENTCA, Inc. is happy to announce our renewed partnership with Mid America Professional Group, PC (MAPG) and our shared commitment to providing readily available, high quality dentures to America's elderly population. As one of the earliest network-wide adopters of DENTCA's digital CAD/CAM denture system, MAPG recognized the need for treating edentulous long term care facilities residents with a streamlined approach that is highly accurate, predictable, repeatable, and convenient. After testing DENTCA's system in the field, MAPG implemented a centralized administration system to effectively manage the placement and delivery of all denture cases involving numerous dentists across multiple states.
Luis Garabis, DDS, Dental Director, Mid America Professional Group, PC, explains:
"DENTCA's system has been a tremendous asset to our vision of providing not just convenient dentures, but quality dentures. With DENTCA's CAD/CAM system, we know that our dentures are customized precisely for each patient to enhance comfort, durability, retention, and function. When treating elderly people who live in long term care facilities, each of these qualities are even more important because the denture enhances masticatory function and provides aesthetic results, thus improving the residents' quality of life."
"While the Holiday Season is a reminder that comes once a year about the celebrations of eating, smiling, laughing, and sharing memorable moments with family and friends, doctors who treat edentulous patients experience the overwhelming challenges edentulous people face every day. At MAPG, we are committed to solving these challenges that so many elderly face today by generating high quality prosthetics that are truly life-changing and add so much quality to everyone's lives."
The partnership between DENTCA and MAPG has helped both companies grow and find more efficient and effective ways of treating long term care facilities patients and other elderly adults.
"DENTCA greatly values and appreciates the feedback we receive from MAPG. Their doctors treat patients out in the field and experience many more challenges than most would experience at a dental office. This type of doctor-patient experience is crucial to understand when our goal is to create the most effective and convenient system for all dentists who strive to provide dentures under even the most challenging circumstances," says Younger Hong, Marketing Director for DENTCA.
DENTCA's CAD/CAM system is a digitally-enhanced, non-intrusive procedure which minimizes chair time to maximize patient convenience. Because the entire process is digitally streamlined by DENTCA after the first and only impression visit needed, treating patients at long term care facilities has now become possible across large scale networks. Dental networks often face the most difficulties in providing dentures with conventional methods because local labs all vary in time, quality, capability, and costs – which makes scheduling and administration of denture procedures more than just challenging, but sometimes impossible.
"DENTCA's centralized ordering, processing, clinical support, and administration provides MAPG key data for planning, evaluating, and scheduling denture treatments from the corporate to the regional and local level. This data helps us recognize where we can provide the best results for our clients, doctors, and patients at all levels, particularly when it comes to denture procedures which are otherwise complex and can vary so much that they become hard to analyze," says Kimberly Whitis, VP of Operations, MAPG. "We are very pleased with the DENTCA product and are excited to continue working with DENTCA in providing quality dentures to our elderly long term care residents."
Whether a patient needs a single denture, both arches or implant overdentures, DENTCA's system makes the process highly accurate and scalable to roll out with greater efficiency across large networks of care providers. DENTCA and MAPG, both leaders and pioneers in their respective fields, are proud to be working together in providing high quality removable prosthetics to the growing elderly population who need them most.
"The DENTCA system provides huge time and cost benefits for networks of doctors like MAPG, and considerable ease of use for general practitioners who want to deliver high quality, comfortable, and esthetic dentures in the shortest time. For those of us who continue to treat edentulism, there is no better alternative than DENTCA's 3D CAD/CAM system," summarizes Dr. Garabis.
About Mid America Professional Group, PC:
Mid America Professional Group, PC (MAPG) is comprised of dedicated professionals specializing in the business of dentistry. MAPG is dedicated to serving the needs of America's elderly population by providing portable dental care to long term care facilities. We understand the dental needs of this underserved population and strive to improve each resident's quality of life one smile at a time. (http://www.mahweb.com) In addition, MAPG provides quality, affordable comprehensive dental services and staffing to federal, state and local government agencies.
MAPG, in partnership with PrevMED Dental Case Management is dedicated to helping long term care facility professionals care for their residents' dental needs by offering an Oral Health Maintenance Program. The goal is to help prevent systemic disease, reduce healthcare costs, and improve the quality of life by improving the oral hygiene of long term care facility residents. (http://www.prevmed.org)
MAPG's dedicated dental professionals and staff provide onsite care to several thousand long term care patients residing in facilities throughout the United States. Dental care is provided using portable dental equipment so treatment is provided onsite thus minimizing the need to transport patients to a local dental provider.
About DENTCA:
DENTCA, Inc. (Los Angeles, California), the pioneer of CAD/CAM Denture Technology, produces high-quality dentures through computer-aided design (CAD), computer-aided manufacturing (CAM), proprietary 3D modeling, and scalable 3D printing technology. After introducing game-changing technology to dentistry, DENTCA received the Pride Institute's Best-of-Class Technology Award in 2012 -- the first denture company in history to receive this coveted award. DENTCA's patented tray system is designed to save significant time by enabling doctors to capture the impression, VD, and CR in the same patient visit in less than one hour of chair time. DENTCA provides high quality denture fabrication services to prosthodontists, general practice dentists, denturists, mobile dental networks, dental laboratories, government agencies, dental schools, and corporate health care networks with 100% accuracy and rapid turnaround times through its award-winning 3D CAD/CAM technology. With extensive patent protection, client relations, academic collaboration, and dedication to R&D, DENTCA is committed to advancing modern dentistry with this state-of-the-art, revolutionary technology for years to come.
DENTCA, Inc.
3608 Griffith Avenue
Los Angeles, CA 90011
Tel: (323) 232-7505 | 855-4DENTCA | 855 433 6822
Fax: (323) 232-7504
E-mail: info(at)dentca(dot)com
URL: http://www.dentca.com
FB: http://www.facebook.com/dentcausa