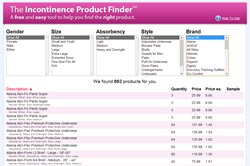 Neenah, WI (PRWEB) December 11, 2013
Holiday travel can be one of the season's greatest pleasures. For those managing urinary or bowel incontinence, it can be much more enjoyable and worry-free with a little planning and the right products, according to Lynn Wilson, Founder of The CareGiver Partnership.
"If you or someone you love is affected by urinary or fecal incontinence, you are not alone," says Wilson. "Approximately 25 million adult Americans experience either short- or long-term urinary incontinence, and more than 6.5 Americans have fecal incontinence, according to the National Association For Continence."
Wilson says, when planning a trip while managing incontinence, a great approach is to address some common concerns:
Discretion and dignity. Today's absorbent product offerings include those made from advanced materials that are thin, quiet and breathable. Options include premium-quality products that look and feel like regular underwear, washable and reusable undergarments, and reusable swim pants designed for fecal incontinence. The CareGiver Partnership's free online Incontinence Product Finder tool is an ideal place to search for just the right product.
Odor control. Keeping skin clean and proper disposal of incontinence products are key to controlling odors. It's helpful to pack disposable wipes and skin cleansers for on-the-go personal hygiene, plenty of disposable undergarments, and discreet disposal products such as Heaven Scent bags, which are ideal for diapers and feminine hygiene products, too. For odor-free disposal at home, The CareGiver Partnership offers the Akord Disposal System, which is similar to a Diaper Genie but made for adults.
Urgency during travel. Whether driving, flying or sightseeing, it helps to plan ahead by having products on hand, carefully monitoring fluid intake and planning frequent restroom visits. Products ideal for worry-free travel and overnight protection include the NASA-inspired Wellness Brief, which can be worn for 8 hours at a time and absorbs up to 87 ounces.
Peace-of-mind backup plan. Enjoy extra peace of mind by packing bed or chair pads if leaks are a concern. Underpads will not only protect bedding and furniture, but disposable ones can be discreetly tossed away.
For personalized help in choosing the right products, ask a member of The CareGiver Partnership's team of Product Specialists. Read more practical travel tips on our blog: Elderly Travel Comfort Tips.
The CareGiver Partnership is a national direct-to-consumer retailer of home healthcare products for incontinence, diabetes, nutrition support and more. In its seventh year of providing products and services that help caregivers and loved ones maintain personal dignity, the company also offers an online library of more than 1,500 family caregiver resources and personal service by experts in caregiving. Call 1-800-985-1353 or visit online at caregiverpartnership.com.