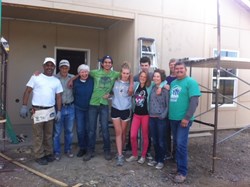 For me it would be the most amazing chance in my life.
Babylon, NY (PRWEB) January 06, 2014
International Student Exchange (ISE), announced that Luka Medzmariashvili, from the Republic of Georgia, won the 2013-2014 Jordan Nagler Memorial Scholarship.
ISE offers the Jordan Nagler Memorial Scholarship to their incoming exchange students. The scholarship is in honor of Jordan Nagler who was the Executive Director of ISE from 2003 until his passing in October of 2008. The criteria for this scholarship selection is academic excellence and a diligent work ethic.
ISE is pleased to announce that the recipient of the Jordan Nagler Memorial Scholarship for 2013-2014 is Luka Medzmariashvili of Republic of Georgia. In selecting the scholarship recipient, ISE looks for a student who is well rounded – not just having excellent grades, but also being interested and involved in a variety of activities.
Luka is grateful that ISE gave him such a great opportunity to study in the USA. Learning and improving his English skills are the main reasons why Luka came here. He currently resides in West Richland, WA, and attends Hanford high school. He enjoys his school and the friends he's making.
". . . for me it would be the most amazing chance in my life," stated Luka.
He appreciates his access to advanced technology and research. Luka has been able to take advantage of the experiences that go along with lesson plans.
"Studying in the United States doesn't just give me tangible degrees and certificates, my experience says something about who I am," explained Luka.
About International Student Exchange
ISE was founded in 1982. It is a non-profit organization dedicated to bringing people of the world closer together through student exchange and intercultural education.
Based on the materials submitted by ISE and reviewed by the Council on Standards for International Educational Travel (CSIET), an independent national educational organization founded in 1984, ISE has been granted a listing every year. Indicative of its high level of professionalism and respect within the foreign exchange industry, ISE is designated by the Department of State as an official sponsor of the Exchange Visitor Program.
ISE is headquartered on Long Island, 60 minutes from Manhattan. Forty-four fully staffed Regional Offices are strategically located in the United States. ISE cooperates with over 100 independent foreign agencies in over 40 countries around the world for the recruitment and placement of students in American homes. The company's information is available at http://www.iseusa.com.