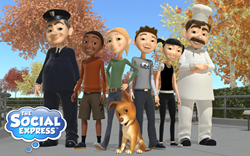 San Diego, CA (PRWEB) December 11, 2013
Dec. 11, 2013 -- The Social Express has been recognized for making a positive difference in education by K12 leaders who named it to District Administration magazine's "http://www.districtadministration.com/top-100-winners-2013?keys&items_per_page=10&page=1 Readers' Choice Top 100 Product for 2013 __title__ ]."
The winners, selected by District Administration's editors from a record 1,800-plus nominations, were products that received the highest number of nominations and best descriptions from K12 leaders. The Readers' Choice Top 100 has been announced online and in the December issue of District Administration.
Incorporating cognitive behavioral research and evidence-based social learning practices, the lessons in The Social Express use "Hollywood quality" animation to model the social skills integral to relationship building as well as career and life success. The animated webisodes target 14 different skills and multi-tiered user levels, and are supported by quizzes, worksheets, and offline activities. In addition, students have access to a private social network, The Clubhouse, which serves as an extension of the lessons where students can practice their skills and make friends in a safe environment.
In recognizing the most innovative products, the annual District Administration Readers' Choice Top 100 Products award informs superintendents and other senior school district leaders about products their colleagues around the country are using to help their districts excel.
"The fact that we had a record number of readers participating in this recognition program is a testament to the interest that K12 leaders have in products for improving educational outcomes and operational efficiencies," says JD Solomon, District Administration's editorial director. "All of the honorees in our Top 100 program should be very proud of their achievement."
About The Social Express
Launched in 2011, The Social Express is an interactive program that supports social and emotional learning for students struggling with Autism Spectrum Disorders (ASD), ADHD, and other social learning challenges. Available to schools, professionals, and parents, the award-winning online program teaches users how to think about and manage social situations, helping them to develop meaningful social relationships and succeed in life. For more information visit http://www.TheSocialExpress.com
About District Administration
District Administration provides K12 leaders with critical news and information for school district management, through its monthly magazine, website, e-newsletters and the District Administration Leadership Institute Superintendent Summits. For more information, visit http://www.DistrictAdministration.com.
# # #