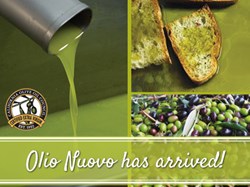 "It's exciting to be able to offer our customers the freshest olive oil they will ever taste." - Frank Mercurio, We Olive
Paso Robles, CA (PRWEB) December 12, 2013
We Olive, the premier retailer of California olive oil, has announced the release of its 2013 harvest Olio Nuovo extra virgin olive oil. Olio Nuovo, or "new oil", is the first pressing of the harvest and is prized for its superior freshness and health attributes. It is available for just a short time after the harvest each year and is the one of the gourmet food retailer's most sought after olive oils.
We Olive Managing Partner, Frank Mercurio shares why this particular oil is so unique:
"Ordinarily, olive oil is stored for a couple of months before bottling to let the sediment fall to the bottom and to allow the flavors to mellow. Olio nuovo is picked, pressed and bottled right away to create a brilliant green oil with bold, fresh flavors. It's exciting to be able to offer our customers the freshest olive oil they will ever taste."
Mercurio says that this unfiltered olive oil may also offer additional health benefits. "Because the oil hasn't been filtered or given time to settle, there's a higher level of polyphenols in the oil, which can protect against heart disease and cancer."
The 2013 Olio Nuovo is a blend of two olive varietals, Arbequina and Koroneiki. It was made by a highly regarded Northern California miller exclusively for We Olive. It's certified extra virgin by the California Olive Oil Council, like all We Olive olive oils and also Certified Orthodox Union Kosher.
We Olive Culinary Projects Editor, Emily Davis offers some suggestions on how to use this special, once-a-year oil.
"Olio Nuovo is different from other extra virgin olive oils because of the way it's made. It typically has stronger flavors and extra pungency because it is the very freshest olive oil you can find. One of our favorite ways to savor this yearly treat is to do as the Italians do and grill thick slices of bread, drizzle the oil all over the bread then add a few pinches of coarse sea salt. Pour a glass of wine and enjoy! It's also delicious mixed with a good quality aged balsamic vinegar over salads, it's perfect for spicing up roasted veggies and meats, and it's a fantastic finishing oil for soups and pastas."
It's recommended that Olio Nuovo be consumed within a few months of purchase to enjoy its peak freshness. It is more perishable than other extra virgin olive oils which have been allowed to settle before bottling. Olio Nuovo typically has a shelf life of 3 – 6 months where other extra virgin olive oil can keep for about 18 months if stored properly. For more information on store locations and purchasing Olio Nuovo, visit http://www.weolive.com.