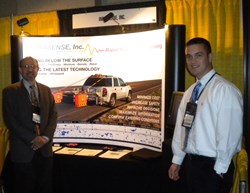 Arlington, MA (PRWEB) December 11, 2013
The Midwest Bridge Preservation Partnership (MBPP) and the Midwest Pavement Preservation Partnership (MPPP) recently hosted their annual meetings in Indianapolis, Indiana. This marked the first time the two organizations held their meetings simultaneously. Hundreds of engineers from state DOTs and private consulting firms and suppliers attended the conference to share new technologies and materials relevant to bridge and pavement maintenance, and discuss and improve current best practices for bridge and pavement preservation and rehabilitation. A key theme throughout the meeting was that owners need to "keep the good stuff in good condition" because investing in bridge and pavement preservation will help American infrastructure to improve on its 2013 overall grade of D+ from the American Society of Civil Engineers.
The meeting examined different state's repair and maintenance practices for key bridge elements, including bridge decks. The importance of accurate and comprehensive condition information was stressed, as it is needed to help DOT personnel make effective preservation, rehabilitation, and replacement decisions. Several Midwest highway agencies have utilized Ground Penetrating Radar (GPR) for bridge deck condition information. GPR data is collected to estimate rebar depth and identify corrosion. The GPR data is collected at highway speeds and requires no lane closures. This technology is able to estimate the overall quantity of deteriorated concrete for a particular deck structure, as well as provide a plan area map showing the location of the deteriorated areas.
Infrasense has performed project-level and network-level GPR bridge deck surveys. The results yield a quantity of deteriorated area that is used for accurate and cost-efficient rehabilitation planning. For network-level surveys, Infrasense maximizes its efficiency by surveying a large number of decks with its vehicle-based system (up to 30 decks per day). After completing the data collection, a multi-phase analysis is carried out. First, a quick and simple preliminary (Level 1) bridge deck analysis identifies decks in good condition and requiring no further attention. Those found to have more significant deterioration levels are mapped in detail (Level 2), providing data to accurately plan, program, and budget maintenance and rehabilitation. Over the past 6 months, Infrasense has carried out bridge deck scanning projects in Michigan, Minnesota, Montana, and Wisconsin, covering over 200 structures.
Infrasense also uses GPR to provide continuous, accurate pavement thickness data to its clients. The determination of pavement layer thickness is currently the most common highway application of GPR technology because it requires no lane closures and provides a timely and cost-effective means of collecting continuous thickness data. This data may be used for network-level pavement management, project-level rehabilitation design, or quality assurance of newly constructed pavements. GPR pavement thickness testing is an ideal complement to Falling Weight Deflectometer (FWD) testing, especially when as-built records are inaccurate, outdated, or unavailable, and coring at every FWD location is not feasible. Infrasense surveys have covered over 10,000 lane miles of pavement, with projects sizes ranging from a few city blocks in Providence, Rhode Island, to 3,500 miles in Oklahoma for the state Department of Transportation. Most recently, Infrasense completed a GPR pavement thickness evaluation of over 1500 lane-miles of county roads throughout North Dakota. Data collection for this project was carried out in under two weeks.
Since 1987, Infrasense, Inc. has applied the most current technologies to the most difficult challenges in subsurface scanning. Infrasense's engineers are able to nondestructively extract critical information from a diverse range of structures. The firm has conducted research to advance the field of subsurface detection, while also providing valuable information to clients across the country. Learn more about Infrasense, Inc. and its services at http://www.infrasense.com.