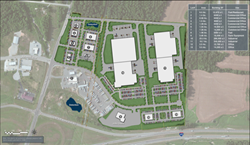 Jackson, TN (PRWEB) December 10, 2013
Gary A. Taylor Investment Company (GAT) announces the certification of Sandstone Village as a Select Tennessee Certified Site. The Select Tennessee Certified Sites program is a project by the Tennessee Department of Economic and Community Development, with the goal of helping communities across the state prepare available sites for investment and expansion. The program sets a consistent and rigorous standard upon which companies can rely in making critical location decisions.
Sandstone Village is one of only 22 sites in Tennessee to receive the award to date, and one of only four to receive the program's elite "Plus" Designation. The Plus designation is only awarded to those sites which meet rigorous conditions of preparedness for incoming industry. Criteria include having all utilities on-site and mitigating any and all environment risk factors, potentially a major expense for incoming industry.
Sandstone Village is a 61-acre property located in a prime location on Sand Pebble Drive in Jackson, Tenn. with direct access to Interstate 40. All utilities currently serve the site, with industrial capacity. Grading projects have already been conducted on the site, saving a potential industrial customer time and expense. Other site advantages include the numerous environmental studies that have already been conducted on the site, another potential source of delay and expense for a newly locating business.
"Receiving the Select TN 'Plus' Site Certification is a great opportunity for us to get the word out about the many advantages this property offers for industry," says Gary Taylor, owner and president of GAT. "We have invested a great amount of resources into making sure this site is appealing to industry. A new industry could locate at this site and be up and running in only a few months."
Gary A. Taylor Investment Company has developed more than 2,500,000 square feet of retail and commercial real estate in Jackson including Jackson Towne Centre, West Town Commons, The Columns and along Vann Drive.
The Columns I and II are the core of new retail development in West Tennessee. Recent developments in the Columns include Carmax and Robinson Toyota.
Current GAT commercial properties being developed in Jackson are Park Place East and West, and Sandstone Village. These developments are all located on I-40 near a 17-field Sportsplex and the Seattle Mariners minor league baseball stadium for the Jackson Generals.
Other active GAT developments include Casey Commons adjacent to the Casey Jones Village; the Shadow Creek Medical Park; and Smith Farms, a 60-acre retail, all located in North Jackson. GAT is also developing University Commons in Martin, Tenn. near the University of Tennessee at Martin. For more information on GAT developments see http://www.gatinvest.com.
-###-