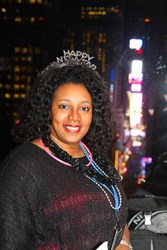 This Ball Drop Gala showcases everything New Year's Eve in Times Square has to offer with the added bonuses of food, drink, and warmth.
New York, NY (PRWEB) December 11, 2013
It all starts at 11:59pm on December 31st. That's when the giant ball raised on top of One Times Square starts its world-renowned descent, counting down the final minute of the year. Below, a million heads crane upwards from all over Times Square, voices ringing together in the last moments of 2013.
New Year's Eve is the most memorable night of the year, so why not spend it in the middle of all the action—right in the heart of Times Square? Don't let the idea of the cold New York weather deter you. New York City Vacation Packages (NYCVP) has planned a special indoor New Year's Eve Times Square Ball Drop Gala Party, guaranteed to make sure this is one event to cross off the bucket list.
The party is being held at Convene (810 7th Avenue), towering 23 stories above the crowds below. This Ball Drop Gala showcases everything New Year's Eve in Times Square has to offer with the added bonuses of food, drink, and warmth.
"All those people on the street stand shivering in the cold with no access to food, beverages, or restrooms for hours just for that 10-second glimpse of the ball drop. Instead, you could enjoy yourself at an exclusive party overlooking Times Square—complete with an open bar, hors d'oeuvres and desserts, music, and dancing, and of course that gorgeous view of the ball drop and the fireworks," explains Joel Cohen, one of NYCVP's team of NYC vacation planning specialists.
Revelers have crowded the streets of New York City to ring in the New Year since 1904, with every year delivering more splendor than the last. They can't even enjoy a traditional New Year's Eve champagne toast because public drinking is illegal in the streets. NYCVP matches the spectacle of being in Times Square for New Year's by adding luxury and comfort to the experience. Convene's large windows wrap around all four walls, so guests will have a full view of all the festivities below and a grand view of the Ball Drop and the Central Park fireworks. Large flat screen TVs will be in place broadcasting all the network New Year's Eve specials, and features the added entertainment of DJ dance music and a souvenir photo booth to ensure these memories will never be forgotten. There will even be a roving magician for the kids (or for the kids at heart).
"At midnight, the ball drop, fireworks and confetti will create the perfect backdrop scenery welcoming in the New Year high above the crowds," says Cohen.
For more information on how to make the most of your New Year's Eve in Times Square vacation, visit http://www.nyctrip.com—the official website of New York City Vacation Packages—or call NYCVP at 877-NYC-TRIP to talk to a NYC vacation planning specialist.
About NYCVP
New York City Vacation Packages has been a trusted NYC travel information authority since 1983 and is the only major independent tour company in the United States devoted exclusively to NYC travel. NYCVP offers services to make sure your custom New York City vacation is safe and secure, and is a member in good standing of NYC & Company (New York City's marketing and tourism organization), the National Tour Association, and the American Society of Travel Agents Tour Operator Program.