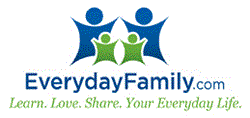 New York, NY (PRWEB) December 12, 2013
EverydayFamily.com, the fastest-growing online destination for moms with growing families, recently announced the launch of the Premium Engagement Program, an innovative new marketing program that allows brands to interact and engage with moms in a whole new way.
"Unlike traditional banner ad solutions, our Premium Engagement Program delivers the greatest level of efficiency in reaching Moms through multiple touchpoints. This allows brands to communicate with our audience in multiple ways," said Tony Golden, EverydayFamily.com's Chief Business Development Officer.
EverydayFamily.com's Premium Engagement Program was established as a solution to the limited out-of-the-box advertising options that are currently employed by most publishers.
"Given our ability to build campaigns from the ground up, utilizing our growing array of targeted marketing channels that reach Moms when they are in the 'purchase decision' mode, our program can help turn those who are at the stage of purchase decision to purchase assumption," said Noah Anderson, Founder and CEO of EverydayFamily.com.
EverydayFamily.com has helped some of America's most well-known brands, like Kimberly Clark, P&G and Fisher Price, reach parents with their special offers, brand messages and key life stage information.
About EverydayFamily.com
EverydayFamily.com (EF) is the fastest-growing online destination for new and expecting moms on the web, with more than 4 million members and more than 1.6 million unique visitors, monthly. As a leading online community of moms, EF is an established resource for experts and parents who have advice and information to share, as well as for those who are seeking guidance and support as they move through their family's journeys, from preconception, to preschool and beyond. Delivering results for a majority of the iconic brands in the new parent vertical, EF provides opportunities for sponsorship and creative integration that go far beyond the run-of-site banner and assimilates marketing messages as an uninterrupted part of the user experience.