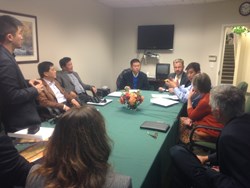 President & CEO Lawrence Carlson reflects, "We share a mutual vision for seniors to live as healthfully and independently as possible in environments with opportunities for friendship, growth, learning and fulfillment."
Neptune, NJ (PRWEB) December 27, 2013
President and CEO Lawrence D. Carlson and other leadership of the United Methodist Homes of New Jersey (UMH) recently met with representatives from the China Aging Development Foundation and Shitao Real Estate Development Company. Shitao is developing and constructing an eldercare community in Beijing, China and will continue to consult with UMH in its programmatic and operational aspects. The two signed Memorandum of Understanding after a meeting at Bristol Glen, UMH's continuing care retirement in Newton, New Jersey.
The memorandum outlines several purposes: supporting China's development of elder care services, meeting the demographic demand, improving the quality of life for the senior population, strengthening the communication and cooperation between China and the US, improving Sino-US relationships and promoting mutual development. UMH will assist Shitao in their role to introduce into China advanced US elder care service concepts and financial, staffing and other management models with adjustments to meet China's needs. The groups investigated European, Japanese and American senior living models and decided the American model best matched their needs.
China Aging Development Foundation is a non-profit organization under the Ministry of Civil Affairs and the National Committee on Aging, which provides dedicated services for seniors and calls society to respect, care and assist older adults. It also fundraises; invests, establishes or cooperatively sets up continuing care retirement communities, nursing homes, assistant living communities, geriatric hospitals, nursing schools, memory support centers; and promotes funding to improve the lives of older adults. In their advocacy efforts the foundation recognizes the outstanding contributions of groups and individuals serving the aging.
China, the world's most populated country, is home to 194 million people over the age of 60 – this number is predicted to increase to 440 million by 2050. Like many other nations, falling fertility rates and increasing life expectancies fuel this trend. Although the government has taken steps to respond to the needs, mobilizing to meet the challenges of a rapidly aging population has no historical precedent.
President & CEO Lawrence Carlson reflects, "While we feel highly regarded by this gesture, we share a mutual vision for seniors to live as healthfully and independently as possible in environments with opportunities for friendship, growth, learning and fulfillment."