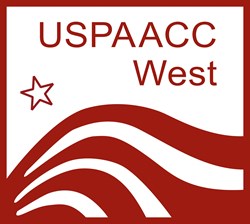 San Francisco, CA (PRWEB) December 10, 2013
Only 2 days left to register for the "Procurement Connections & Holiday Season Networking Reception" that will be held on December 12 at the San Jose Marriott Hotel in San Jose, California. The event, hosted by the US Pan Asian American Chamber of Commerce Education Foundation (USPAACC) Western Region, is sponsored by PG&E and Wells Fargo.
"We are excited to once again bring together Asian American, other minority and small businesses as well as representatives from California Fortune Corporations and Government Agencies to discuss current and forthcoming procurement opportunities in the Bay Area," said Clyde Wong, USPAACC Western Region President.
The focus will be on new SBA regulations for teaming and joint ventures; Jeannie Quan's successful journey in leadership as a Police Commander; forthcoming procurement opportunities in the Bay Area, and Globalization at Cisco and Next Technology Hubs.
Fortune Corporations such as AT&T, Cisco, Comcast, JP Morgan Chase, Lockheed Martin, PG&E, PricewaterhouseCoopers and Wells Fargo, as well as Government Representatives from Department of General Services, Department of Veteran Affairs, GSA, Lawrence Berkeley National Laboratory, MBDA, NASA, SBA, San Francisco County Transportation Authority, San Francisco Municipal Transportation Agency and San Mateo County Transit District will be represented.
For additional information, visit http://www.uspaacc.com.
About USPAACC Western Regional Chapter:
Founded in 2004, USPAACC Western Regional Chapter (USPAACC West) is an affiliate of USPAACC Education Foundation, a 28-year-old national non-profit non partisan organization that has been the single, unified voice advocating for the preservation of equal opportunities for Asian Americans in the United States. We promote and propel economic growth by opening doors to business, professional and educational opportunities for Asian Americans and their business partners in Fortune corporations, government at the federal, state, and local levels, and the small and minority community. Since 1984, USPAACC has served and will continue to serve as the gateway to Asian American suppliers, and information about Asian Americans and the dynamic Asia market.
Headquartered in Washington DC, USPAACC reaches its nationwide network of Asian American businesses through regional chapters in California, Texas, New York, Georgia, Illinois, Connecticut and the National Capital Area of D.C.-Maryland-Virginia.